La vita è bella! Summer is fast approaching, and one of my favorite travel destinations during Summertime is the Amalfi Coast. Southern Italy's famous coastline offers stunning hilltop towns with perfectly perched hotels. The breathtaking narrow coastline from Punta Campanella to Salerno is windy, but incredibly picturesque and scenic, so it is well-worth the drive. I do not want to forget the original Italian Island Capri, home to the glitterati in the 1950's and 1960's this chic island can be accessed by ferry (Ferries depart from Naples and Sorrento) or private boat. Below are my top 10 favorite luxury hotels to stay at, or at the very least stop by for an Aperol Spritz on their terrace while visiting the Amalfi Coast.
Le Sirenuse – Positano, Italy
This legendary 59-room, family-run palazzo in Positano is dripping in elegance and class. With Tyrrhenian Sea balcony views, a champagne/oyster bar, and luxurious Eau d'Italie toiletries this is one of the most magnificent hotels in the world. The Michelin-starred, bougainvillaea-clad La Sponda restaurant illuminates the night with 400 candles. Reminiscent of a 1950's Italian movie, this boutique hotel exudes romance and charm.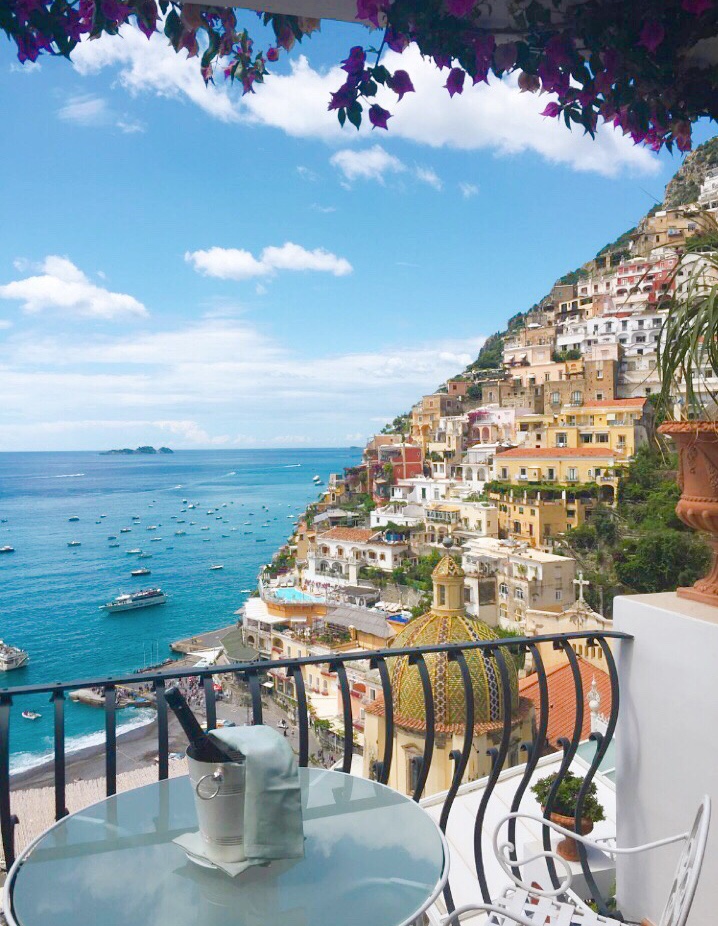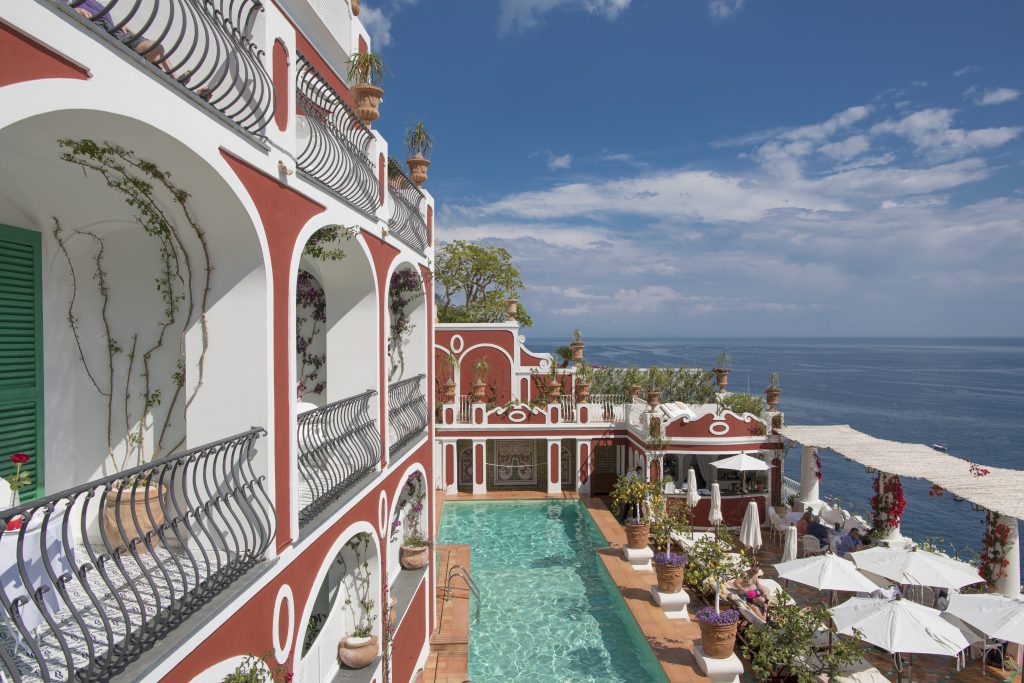 Punta Tragara – Capri, Italy
A salmon-colored pink palace perched high atop the sea sets the stage for the stunning Punta Tragara hotel located in Capri. Boasting dramatic views of the Faraglioni rocks, dazzling sea views from all suites and the most delicious Spaghetti alle vongole, and fresh cocktails at La Pergola bar this hotel doesn't disappoint. With its magnificent landscape and privileged location at the end of the road I have returned to this hotel over and over again.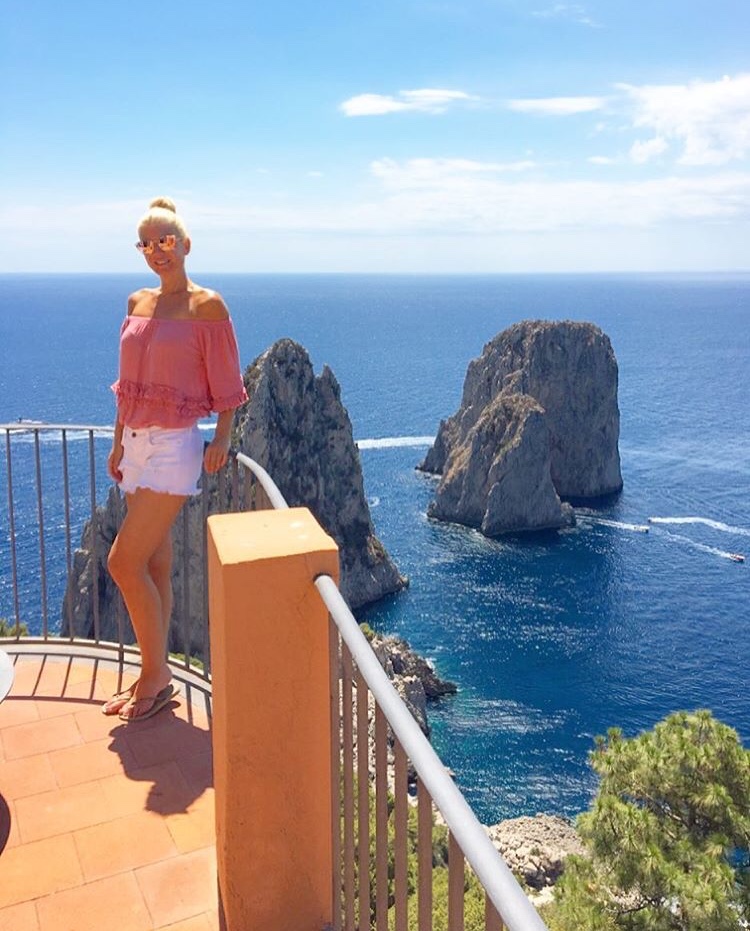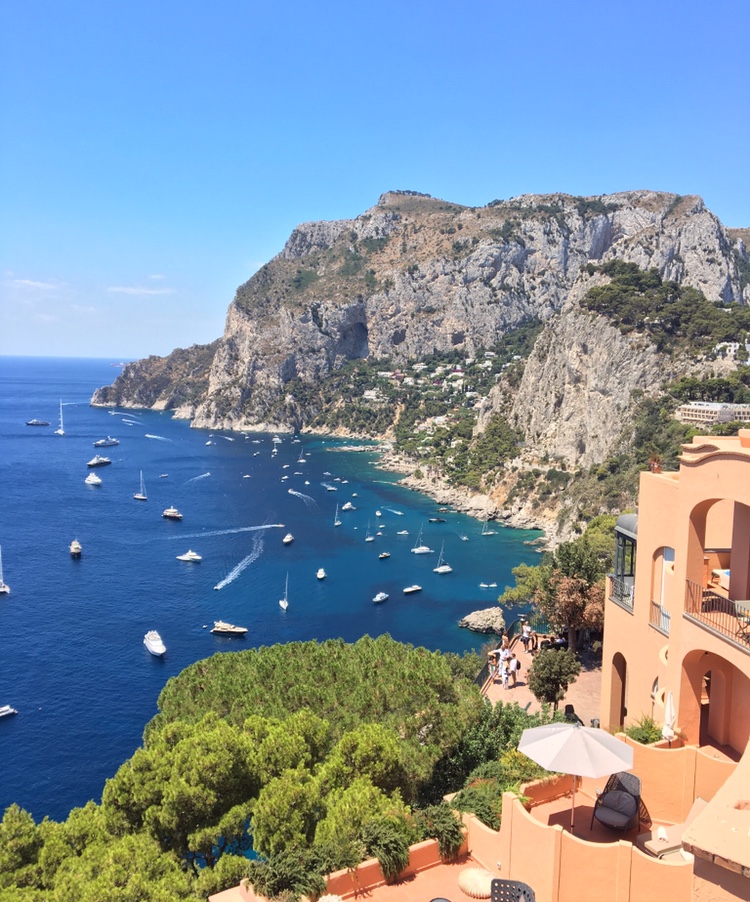 Hotel Villa Franca – Positano, Italy
Situated at the tippy top of the Positano town, Villa Franca boasts extraordinary views. A bit off the beaten path, this beautifully all-white hotel offers charming wrought iron balconies, a roof-top pool with panoramic views, and a boutique atmosphere with superb service.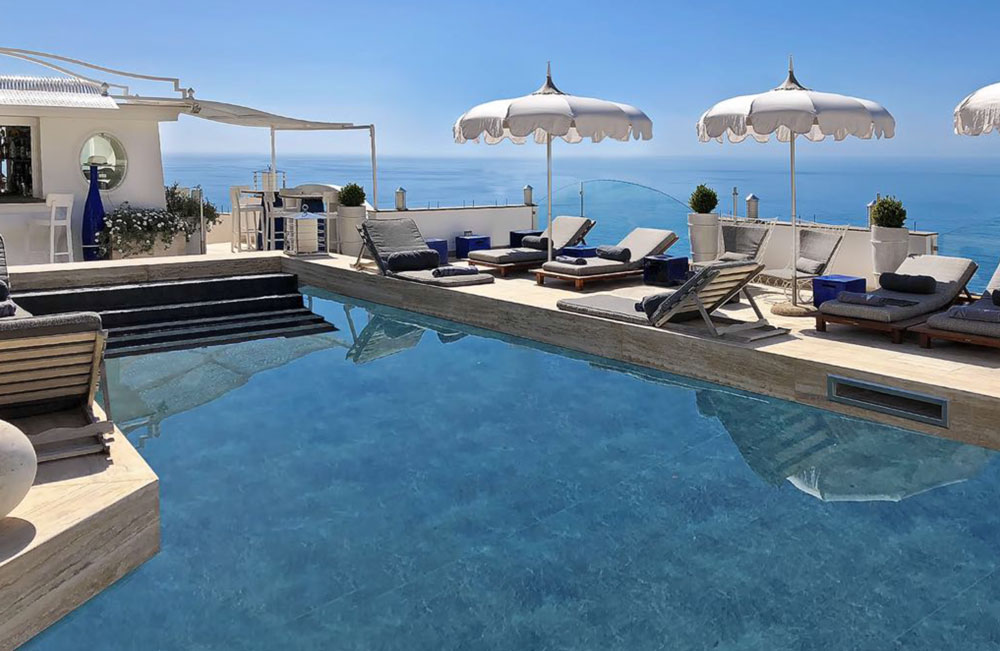 J.K Place – Capri, Italy
The setting for JK Place Capri is a beautiful whitewashed villa surrounded by lemon and olive trees with a glamorous swimming pool terrace, unprecedented sea views, and a renowned restaurant JKitchen. Located on the road to Anacapri, removed from the port-side bustle, this sophisticated and refined hotel is perfect for vintage Versace-clad jet-setters.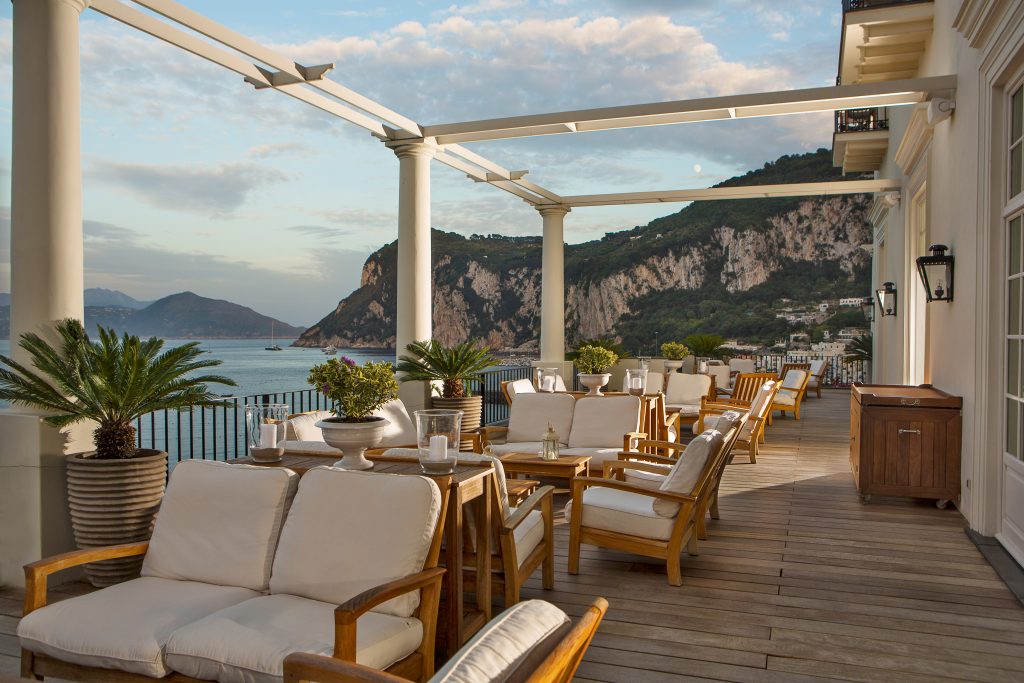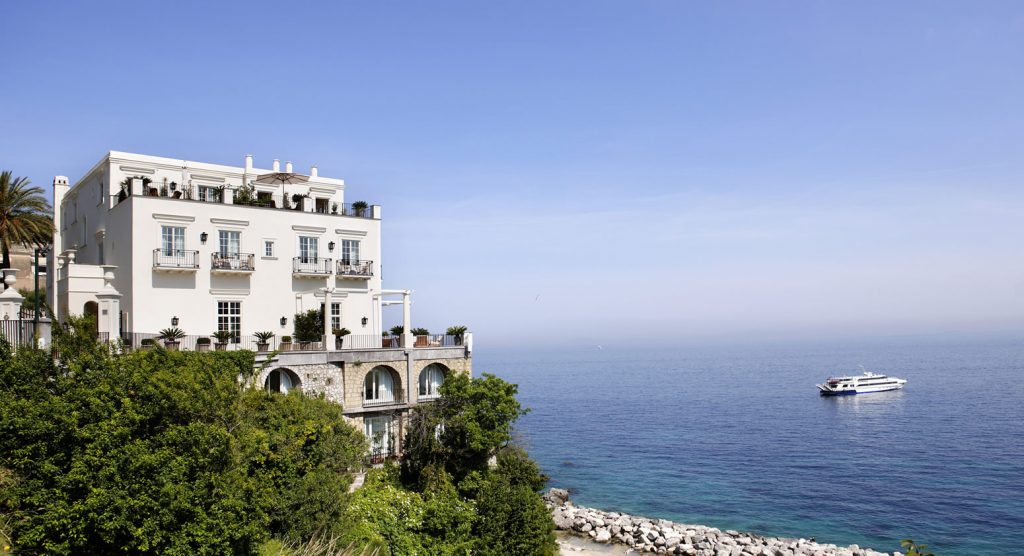 Belmond Hotel Caruso – Ravello, Italy
This insta-worthy palazzo is set on the highest point in Ravello with unobstructed views of the sea. A splendid rooftop infinity pool melts into the horizon, making it seem as you are walking on water. Private terraces, serene gardens jaw-dropping views, and luxury galore make this a must-see hotel.  Truly noteworthy and one of my favorites.
Palazzo Avino – Ravello, Italy
Pink perfection! This fairytale palazzo dates back to the 12th century, and is one of Ravello's most luxurious hotels. Stunning coastal views, a private beach club, gardens galore and a lovely pool make this boutique hotel a must-see. This candilicious property truly is Insta-worthy.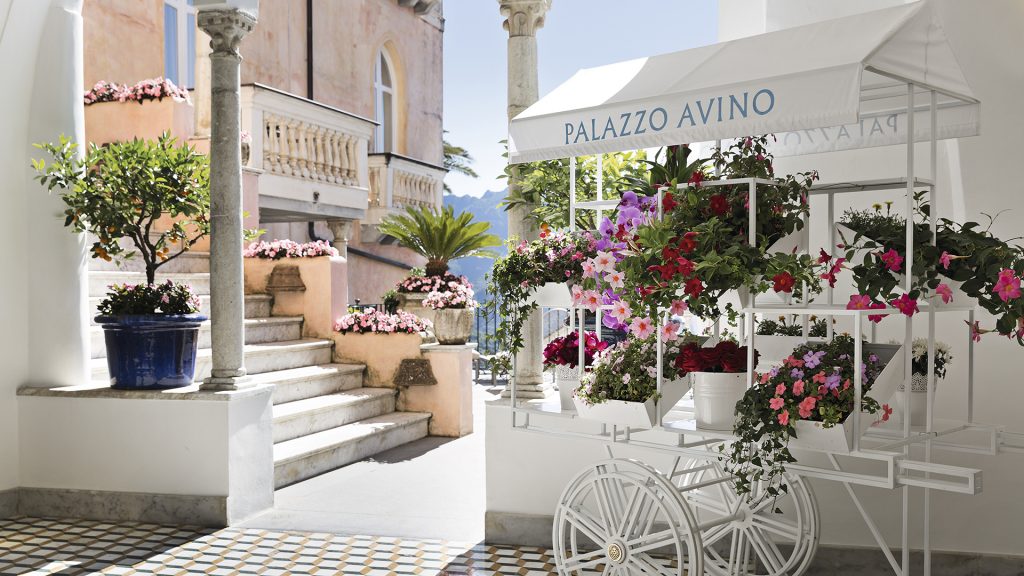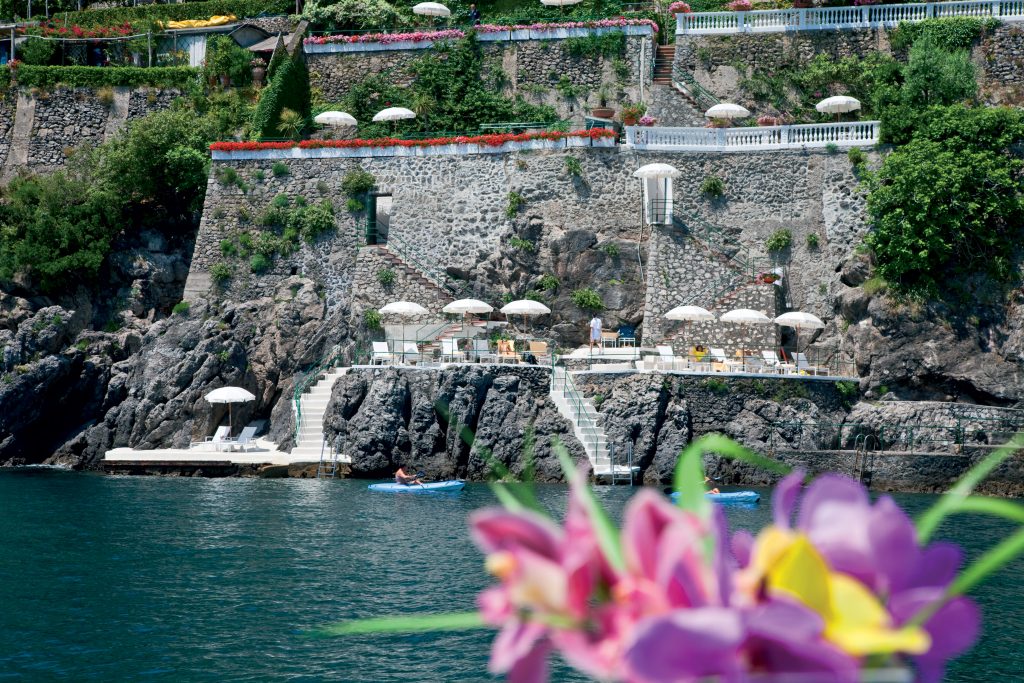 Il San Pietro di Positano, Italy
Il San Pietro di Positano is the pinnacle of luxury. Frequented by A-listers and royalty, this glamorous hotel serves up a panoramic pool, spectacular terrace views, impeccable service, and one of the warmest welcomes I have ever received. I absolutely fell in love with the 1970's retro vibes here.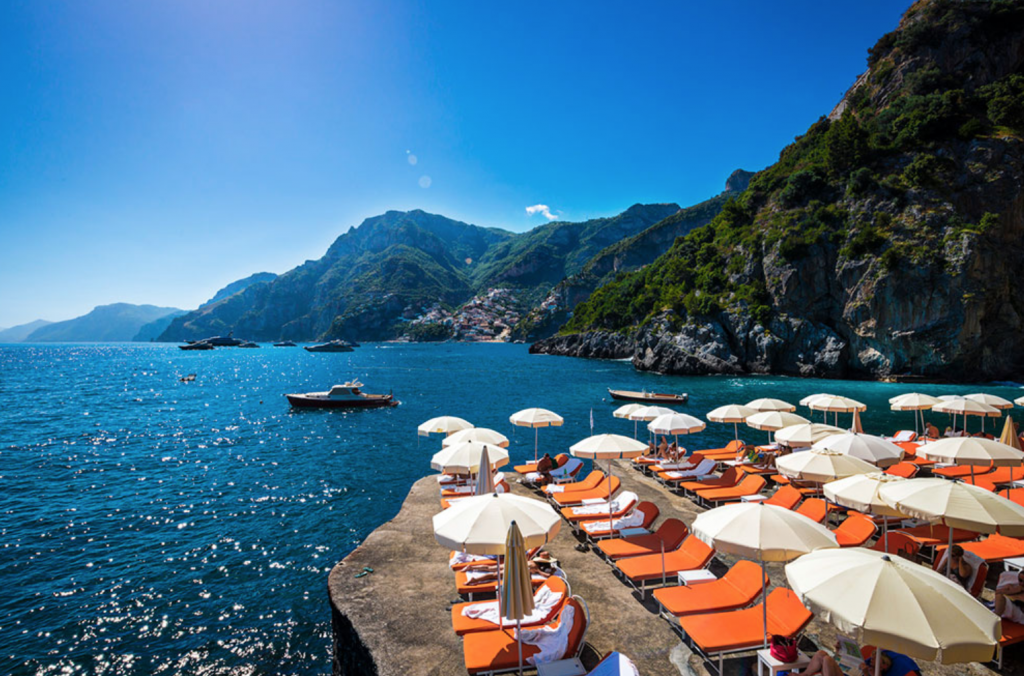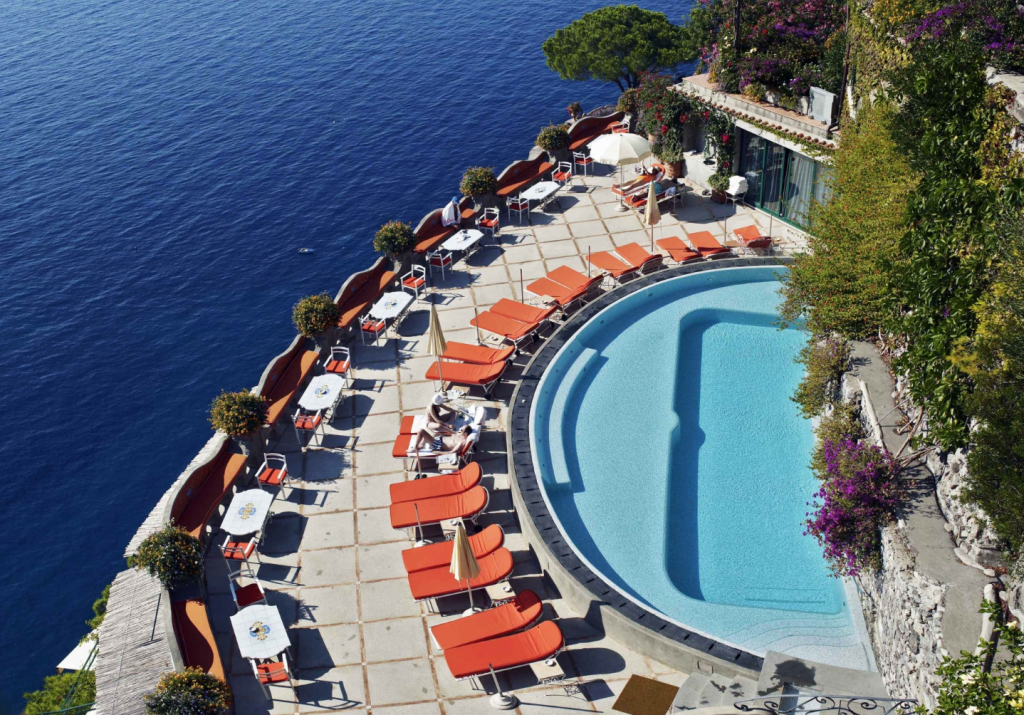 Casa Angelina – Praiano, Italy
A beautifully all-white hotel set in the cliffs of the colorful fishing village of Praiano, this low-key property offers an airy entrance, small swimming pool, stylish terrace and excellent Mojitos. Try the Limoncello Mojito for something a little different. I absolutely fell in love with this vibrant village.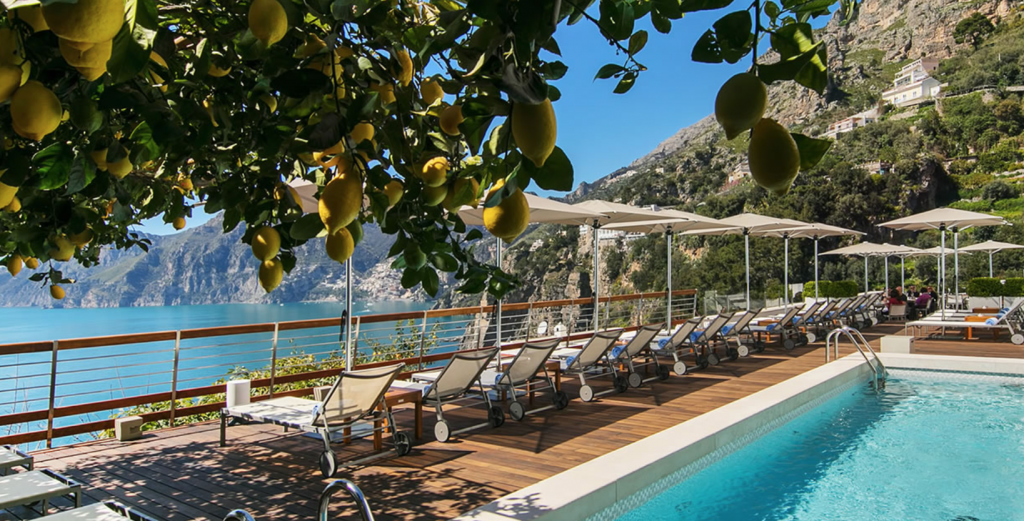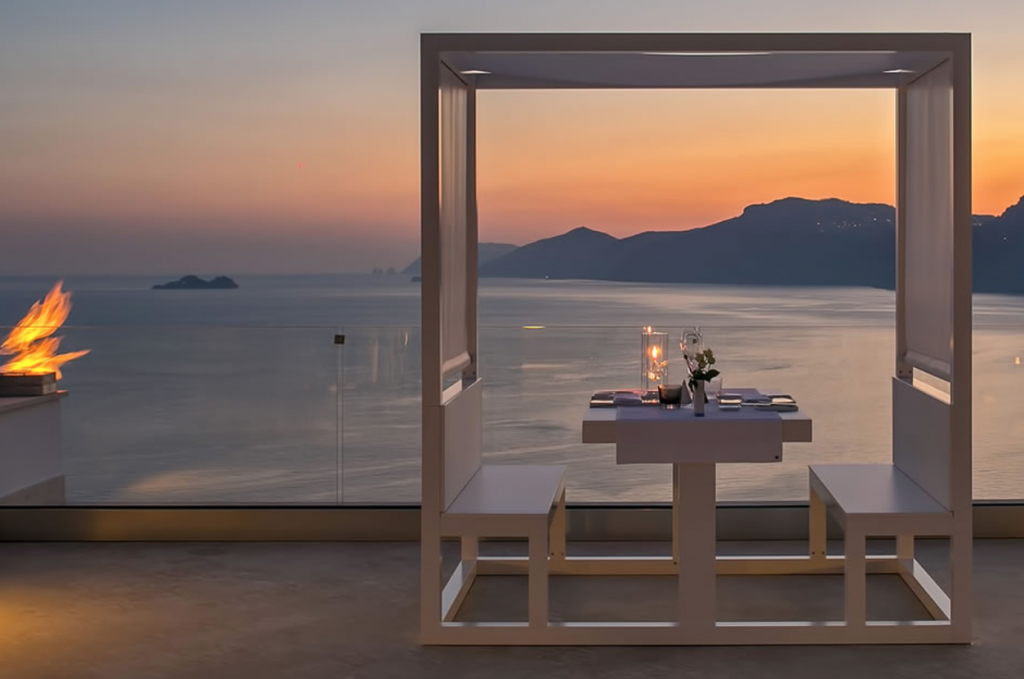 Grand Hotel Convento di Amalfi, Italy
A historic monastery from the 13th century, this distinctive landmark on the Amalfi Coast truly is from another time period. The Grand Hotel Convento di Amalfi sits on the cliffs edge offering dazzling sea views, beautiful gardens, a lovely pool and culinary delights.
Monastero Santa Rosa, Conca dei Marini, Italy
Built in a 17th century monastery, sitting high atop a clifftop, this is one of the most luxurious hotels on the Amalfi Coast. Monastero Santa Rosa's dramatic architecture, and infinity pool that looks like it is suspended over water make this ultra-exclusive hotel so special.