The end of Paris Fashion Week can precipitate a mélange of fervent emotions, from great pleasure and delight to horror and trepidation. The ramifications of having to bid adieu to your coveted color block mink of the season, will most likely result in an unanticipated black hole of depression. You will wake up in the middle of the night, sleeping fitfully in silk pajamas, slowly accepting that the dust of les tuileries will no longer tarnish the toes of your Lanvin ballerinas. Flashbulbs will not radiate off your vintage Linda Farrows, nor, will street photographers continue to confuse you with Nicole Richie or Jessica Alba.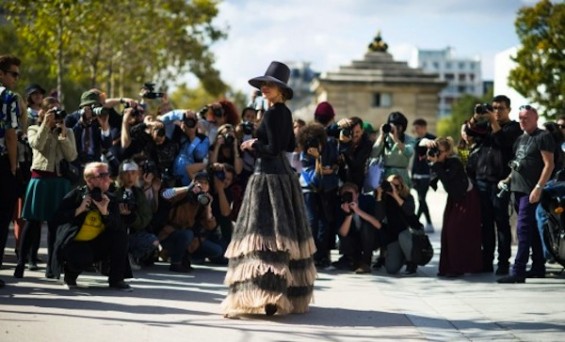 A train of sweat dances through the hairs of your perfectly groomed brows when you finally acknowledge, that without Paris Fashion Week, no one wants to take your picture.  But fear not fashionistas for there is a cure for Post Fashion Week Depression, and the cure is simply as follows: fake it till you break it. If you want to be seen and gawked at on a regular basis, you must go to the right spots and schmooze with the right people. Dress minimally but fabulously, don't look like you are trying too hard, even if you spent all morning fluttering through your post Fashion Week wardrobe. Keep in mind that regardless if Fashion Week is finito, your coiffed, effortlessly chic style, is livelier than ever.
Begin your day as if it was like any other day, starting with a lavish breakfast at Hotel de Crillon. Be sure to eat alone, because all chic women brood and devour in solitude. The staff will presume you are an editor or a 'very important person.' Order l' addition and walk outside to Place de la Concorde, which is situated just close enough to jardin des Tuileries to smell the waning scent of fashion's week past, and just far enough away to prevent your shoes from soiling. At the center of Place de la Concorde, you will find yourself swarmed by a battalion of photographers hailing from all over the world. Some may even ask you to take their picture!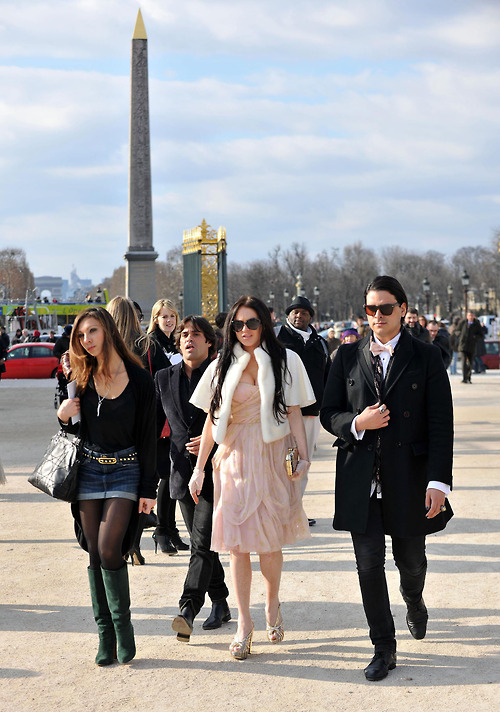 The flashbulbs are so bright, that you dizzily stumble down the avenue Montaigne to meet your Baptiste Giabiconi lookalike friend (who everyone confuses for your handsome beau) for tea at the terrace of the Plaza Athénée weather permitting of course. The terrace is the perfect height to shield you from the prying eyes of everyday people, people who don't feign their way through existence and those who maintain stable jobs while setting realistic goals. No, you are much more exceptional then common folk, thus, with the aid of green shrubbery, you are imprisoned in marvelous denial.
After Baptiste handles the cheque, you stroll over to Courrèges, where you accidently walk into the store's glass doors, thankfully, no one sees. With your dignity still intact, you peruse the retro creations and develop an appetite. Moving next door to Courrèges's Café Blanc, you order coquilettes, jambon, truffe, which is a fancy French way of saying mac & cheese infused with ham and truffle. Taking two large bites, you are refueled. You take a moment to delight in the contrast of your ultra black outfit against the café's ultra white couches, Richard Avedon would be proud. 
Inspired by fashion photography of the late 1950s you have a sudden urge to reenact iconic scenes from Hepburn's Funny Face, after all, this will surely get you noticed. Ensuring a gigantic audience, you find yourself mounting the elevator of La Tour Eiffel with a group of poorly dressed strangers. You pose for a small child, who you confuse with the Sartorialist, Scott Schuman. The day is a success!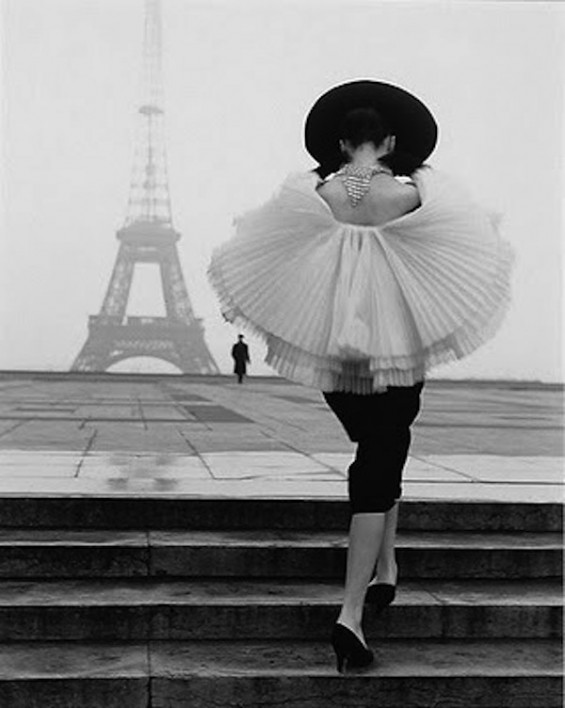 Honoring Audrey Hepburn, you belt out the lyrics to Bonjour Paris, you have an advantage because you are slightly town deaf and therefore, you'll probably turn some heads. However, there is someone missing. Where is your Fred Astaire? In hopes of completing your duet, you turn to random men and begin to dance with them. While the men are in the mood to parlez-vous, their wives, are not.
When the gendarmerie chase you away for disorderly conduct, mounds of admirers encircle you, and amongst the uproar, a feeling of relief surges through your natty veins. Though you are no longer confused with A Simple Life star, you are infamous, you are post Fashion Week fantastic. You've faked it and that's all anyone could have ever ask for. Au revoir PFWD, until next season.
 Written by: Chloe Rash