Anna Dello Russo is sitting front row, graciously posing for photographs like a comparably iconic sky-high landmark. Editors arrive toting children, who sit, staring wide-eyed at a man with a powder pink rose crown and another with long strings for eyelashes. There's a woman wearing peach ostrich feathers down to the floor. Oh, just watch the paparazzi swoon. We've come together at the Palais de Tokyo, for the Costume National défilé – a show that clearly carries much expectation. Creative Director Ennio Capasa delivers a classic yet modern minimalist approach to a collection dominated by black and white.
Coats embrace the tailcoat silhouette – long in the back, and cropped in the front – but the shape is boxier, more contemporary. A square-shouldered cape makes us swoon, worn over a simple white tailored shirt. Where other designers use leather accents this season, Costume National opts for a luxurious satin – creating strong lines around collars, coat edges, cuffs, waistbands and on a single, featured asymmetrical lapel.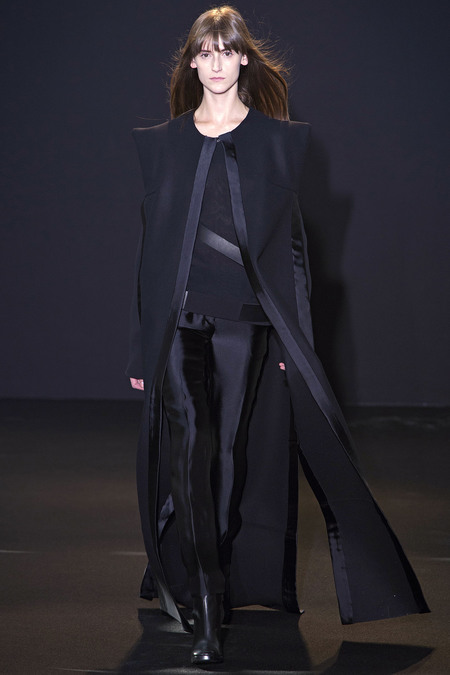 Maroon and navy add colour variation, as line takes centre stage – an evolution of the strong tailored lines in the black and white pieces. Token fur emerges to accent sleeves – a key trend in the men's ready-to-wear that has carried through to the women's collections this season. Pants are slim and tailored, but there are also a couple of long, billowy half-skirt, half-pant pieces, which create a fabulous movement as models sweep down the catwalk.
Written by: Symonne Torpy
View the entire collection below…