The two M's, Mary Pickford and Mary Poppins were John Galliano's muses for the Spring/Summer 2012 collection. Pickford, "the girl with the curls" once said, "Adding sound to movies would be like putting lipstick on the Venus de Milo." Maybe so, however, we were reminded that a Galliano Girl always has her lipstick – just as Mary Poppins always had her voice! With the help of these two lovely ladies, a modern new voice was found at Galliano this season.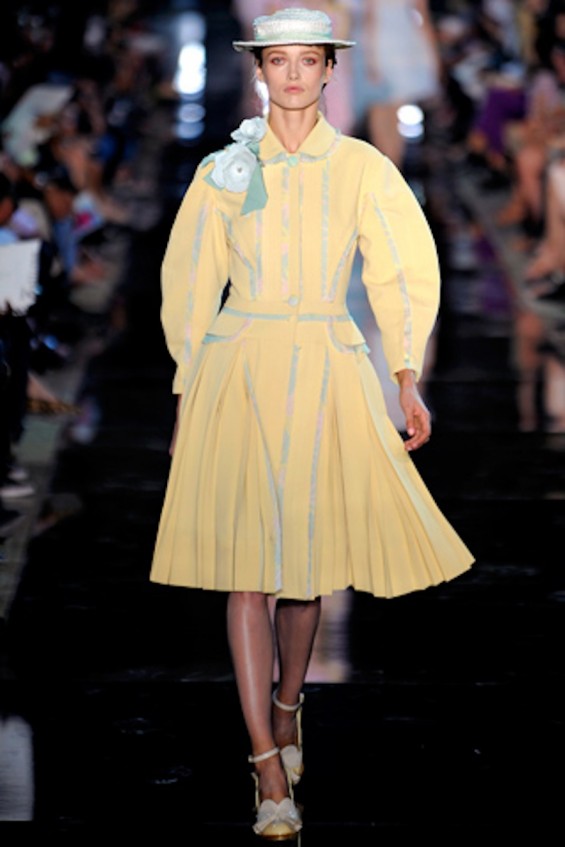 Even though John wasn't there, his spirit reigned supreme in Bill Gaytten's glorious collection. A vision of a modern day au pier, Gaytten celebrated femininity, sweetness and playfulness with soft shapes, ruffles and romance while adding an architectural quality that was completely his own. Whimsical dresses in beautiful fabrics such as chiffon, organza, georgette and tulle graced the runway, as did signature bias cuts and exquisite tailoring. Fresh and flirty silhouettes revealed a lighthearted demeanor.
Sassy and fun, the color palette was a confection of feminine colors. Cotton candy pink, blush blues, sunshine yellows, chocolates and creams. Blithe patchwork, floral embroideries and sequin frosted cocktail dresses gussied up the already dynamic collection. This was the ultimate girlie girl collection! Bravo Bill Gaytten, job well done!
Written by: Stacie Fleming
Images courtesy of John Galliano
View the entire collection below…