Issey Miyake's S/S 2012 collection was in full bloom. Inspired by a blossoming flower, Yoshiyuki Miayame brought a beautiful bouquet to Paris Fashion Week with his very first collection. Vibrant, playful colors paired with sheer fabrications created soft, feminine silhouettes.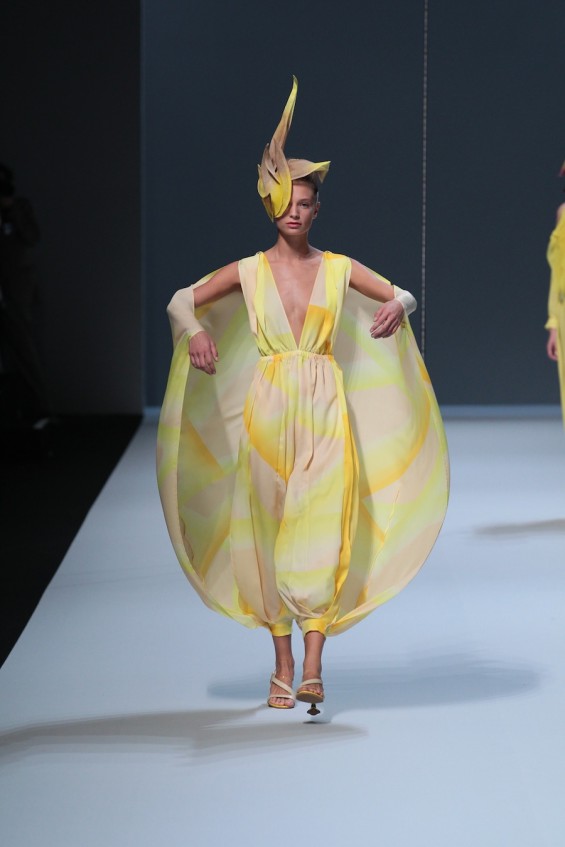 Bloom Skin, the life cycle of a flower was symbolized throughout the entire collection by: bud, stem, petal, blossom, bloom. Elaborate headpieces by Christophe Coppens were reminiscent of a budding flower beginning to open up. Strong fabrics and architectural designs emulated the structure of plants. Semi transparent textures and pastel hued outfits illustrated the petal and blossom and voluminous forms and electrifying prints mirrored a blossoming flower.
Beautiful yellows set the runway a glow like a ray of sunshine while hot pinks and citrons set the catwalk ablaze. Shades cooled to natural neutrals to conclude the show. Paris Girl Couture was interviewed after the show to give her opinions and feedback on the collection.
Written by: Stacie Fleming
Images courtesy of Frédérique Dumoulin
View the entire collection below…