Sultry femininity in monochromatic colors is certainly being flaunted at the Spring/Summer 2012 Paris Fashion week, and the Haute Couture House of Givenchy is no different. Drifting away from loud prints and patterns, creative director Riccardo Tisci, submerged into an undersea cosmos focusing on movement and tailoring. Exotic skins such as eel, shark and stingray further played into the underwater theme, accessorized with giant shark tooth necklaces, metallic clutches and chain waist bands.
As soon as top model Natalia Vodianova stepped on to the runway wearing a nude dropped-lapel sleeveless jacket with a silk collar shirt over glossy, extremely close-fitting pants, you could see the couture elements that Tisci incorporated in to this ready-to-wear collection. Satin short shorts, little polo dresses, and narrow little skirts revealed miles of bronzed legs.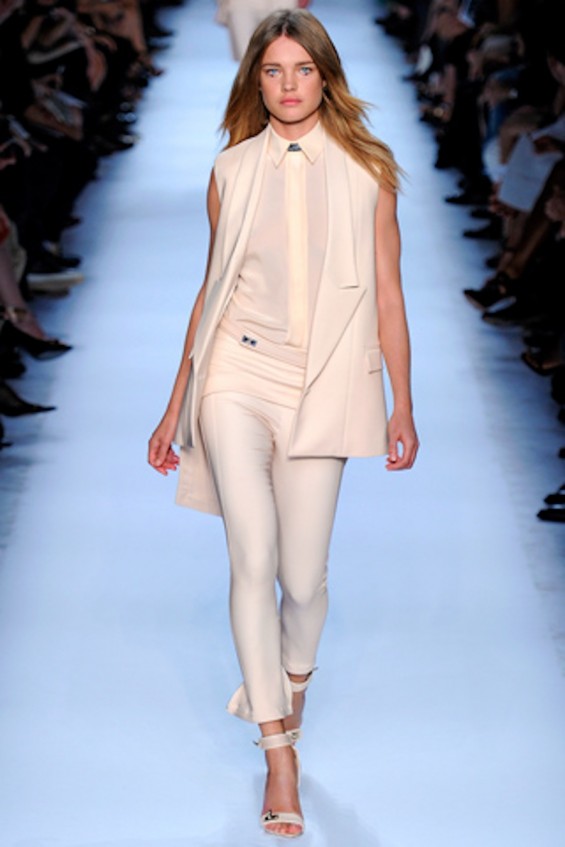 Tisci expressed "a more romantic side…. The general attitude is softer" in this collection, which was revealed in powdery colors in off-white, an array of pinks, and olive greens. At any rate, this did not stop edgy elements from acclimating the runway, creating the perfect look for women who crave edginess with soft refinements (think Kate Bosworth).
Moments of black and ice-blue sequins, slashed leather fish scales, snug jackets and dramatic ruffles created an opulent silhouette that provocatively flaunted the bare skin through slits and sheer fabrics. Texturized black fabrics ultimately created the subtle fierceness of the clothes.
The final look, worn by none other than Gisele Bündchen, created the largest splash in the ocean. Sporting an olive snakeskin jacket, satin shirt and satin hot pants accessorized with an oversized black shark-tooth necklace was the ultimate finish to a strong collection.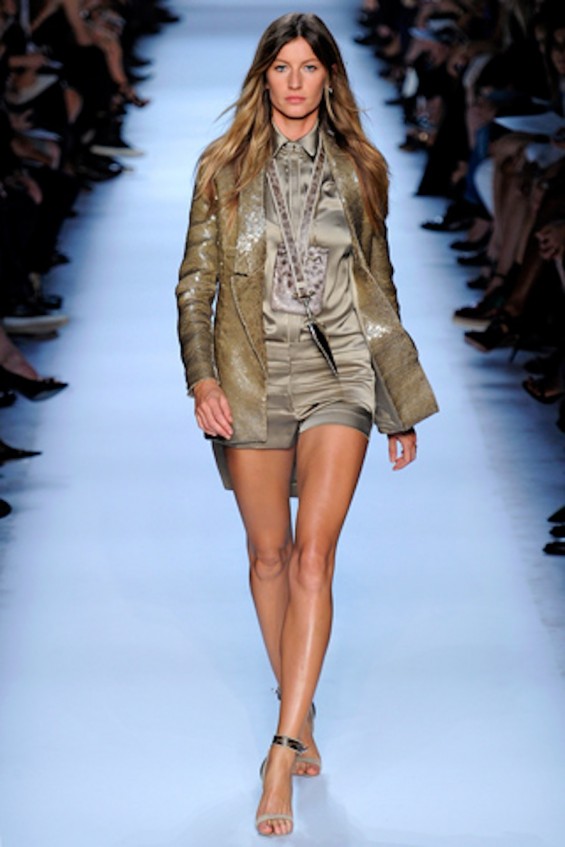 Written by: Kimberly Dreisinger
View the entire collection below…
Images courtesy of Style.com