The holiday spirit is in the air, and in Paris that means Christmas is officially in the department stores! Nothing screams Christmas in Paris more than walking by the elaborately decorated large gallery windows of some of the worlds most famous departments stores. Each year department stores such as Galeries Lafayette, Printemps and Le Bon Marché, carry out the tradition of unveiling and illuminating their much-anticipated holiday window displays. Tuesday night it was Galeries Lafayettes turn to "Turn on the lights"! Léa Seydoux, the glamorous French actress, was the Lafayette's leading lady of the night, doing the honors of lighting the festive storefront display for the first time. Standing in front of a crowd of paparazzi, Léa looked nothing short of stunning in a long black trench and gingham -printed Prada clutch.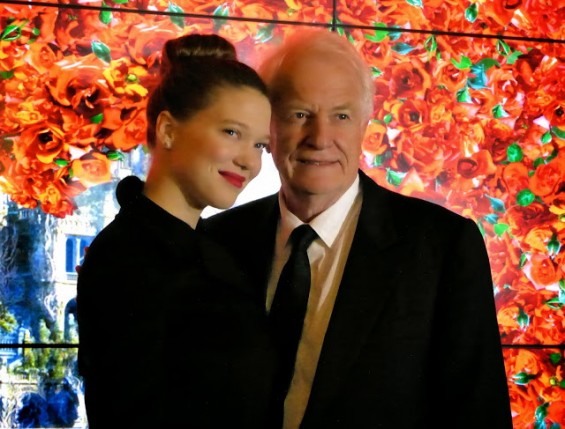 After the lighting ceremony Léa along with an entourage, strolled along the store windows to check out this year's theme.With the theme being, "Once upon a Christmas…Before the Clock Strikes Twelve", the displays depict the travels of Lilly the Doll and Martin the Teddy Bear. Along the way, Lilly and Martin encounter hundreds of animated characters, including adorable mice dressed in gossamer tutus using a net to catch a falling star and monkeys in top hats swinging back and forth from dangling pocket watches. The whimsical displays invite your imagination to run wild and remember what it was like to be a child at Christmastime.In addition to the twelve storefront windows on Boulevard Hausmann, the five windows on Rue de la Chaussée-d'Antin are decorated for Christmas with scenes from "La belle & la bête",  the latest screen adaptation of the Beauty and the Beast. The most popular is an interactive window covered with hundreds of virtual red roses.
Equally magical is the first animated Christmas tree suspended from the glass dome of Galeries Lafayette. Created in collaboration with Swatch, the 60 foot (18 meter) tree is decorated with approximately 1.9 miles (3 km) of twinkling lights. Even though it only took about five days for the fairytale like tree to be installed in the middle of the store, it's the culmination of nine months of intense labor. Like Swiss clockwork, sixty animated characters dance and twirl around the village nestled at the base of the tree every hour.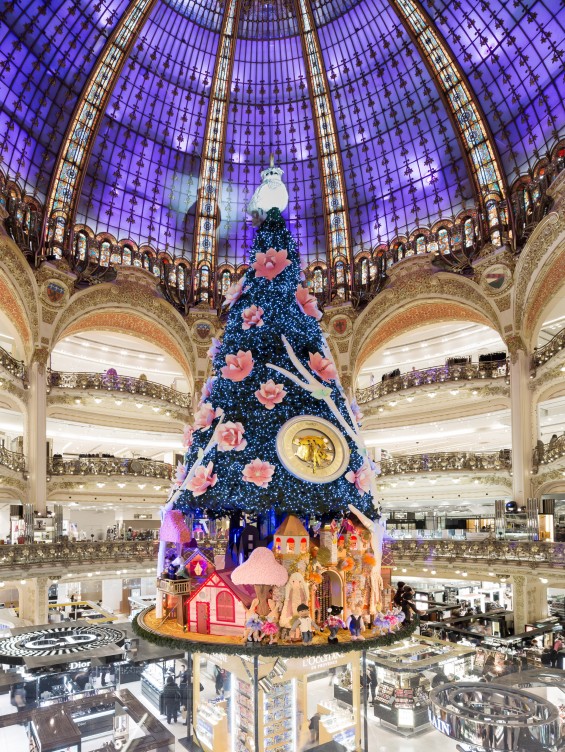 If you've never been to Paris during the holidays its definitely a sight to be seen! Magic and wonderment fills the air as stores and streets slowly fill with the lights, sparkle and smell of the holiday season. Galeries Layfayette started the season off with a bang and we cant wait to see what pops up next!
Written by Stephanie Harries