Ladies and gentlemen, welcome aboard the Chanel aircraft flight SS2012. Flight time will be approximately twenty minutes as we soar high into the stylish skies. Your pilot this morning is Mr. Karl Lagerfeld, and he wishes you a pleasant ride.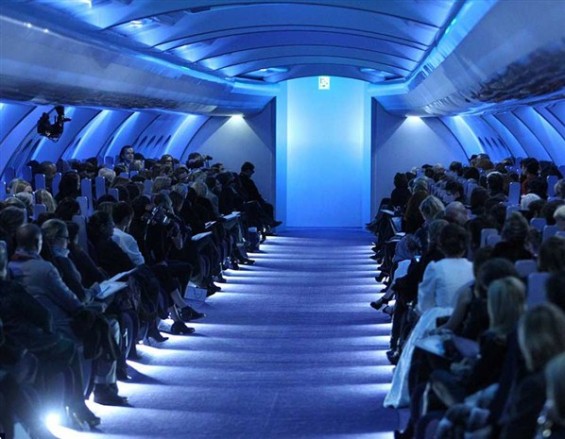 As over 150 guests entered the Grand Palais Tuesday morning, they found the venue transformed in to a luxury jet-plane, complete with numbered seats, emergency exits with floor level lighting and a trolly cart to serve drinks. Excitement and curiosity riffled through the audience as they took their seats.
Though Chanel is consistently recognized for it's extravagant venues and settings, this retro-futurist space age jet still did not manage to outshine the classic Chanel collection. Though the slim silhouettes were fairly simple for couture, the detail and embroidery were impeccable; especially the tiny silver-coated feathers or silk petals that floated prettily when the models graced the runway.
In tune with the setting, this collection featured 150 different shades of blue; from powder and sky blues, warm violet blues, electric and royal blues, midnight and navy. Short sleeved, slim tweed dresses just above the knee were eminent of previous Chanel collections, but the silhouettes and colors were imbued with an aerodynamic neatness of old airline uniforms. The elongated hemlines which settled just above mid-thigh added to the slouchy sort of boy/girl look, so that when the models walked the runway with their hands in their pockets,  they looked, the designer said, "like boys whose jeans are slipping off."
However, the main focus of this Spring / Summer collection was on the cocktail and full-blown evening dresses. Large Puffy shoulders, boat-necked suits, hidden pockets, rouche detailing and dazzling jeweled tights gave classic Chanel a modern, futuristic update. Slicked-back punk hair, cellophane, and sequins added edge to a classic collection.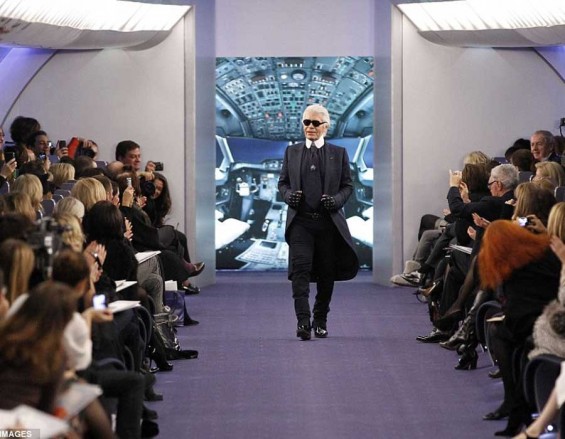 Written By: Kimberly Dreisinger
Images Courtesy of: Vogue.fr