The Carven girl set off on a fanciful journey around the world for S/S 2012. Exploring mountain folklore, Guillaume Henry took us on an incredible adventure through Eastern Europe with influences such as dirndl dresses, lederhosen silhouettes and Hungarian embroidery. With so many worldly influences, the collection was young, playful and chic staying true to the Carven girl aesthetic.
Henry said, "This season I wanted a girl who doesn't stop walking—that's why we put bells on the shoes—she has to keep walking to get the noise of the bells. She is going around the world with no passport from one country to another—she is picking up fabrics and things from everywhere—leather pieces from east of Bulgaria, prints from Romania mixed with jackets from Brittany."
The fresh line consisted of innovative tailoring, indigenous, colorful prints and flirtatious cutouts and insets. Brightly colored laces and dresses of all kinds from baby doll to sheathe highlighted the femininity and fundamentals of this "IT" girl. Our favorite look, this sassy little red lace number with the black lace cutout.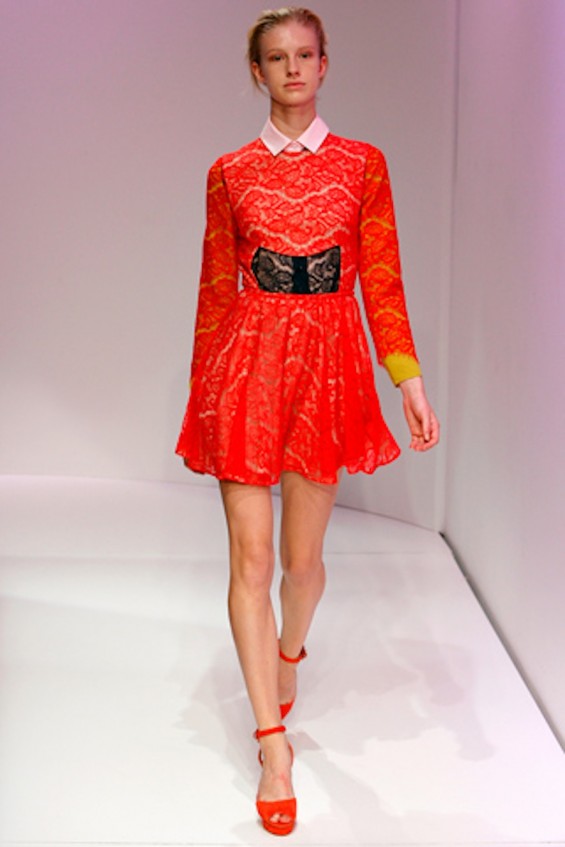 Written By: Stacie Fleming
Check out the entire collection below…
Images courtesy of Style.com