Olivier Rousteing, Christophe Decarnin's young budding protégé, had some big shoes to fill during Paris Fashion Week this season. The young designer debut his first ready-to-wear collection after Decarnin's sudden departure in March due to health problems. The show represented a re-birth, and was Rousteing's moment to shine. He stayed true to all things Balmain, and elevated the collection by focusing on Balmain's couture roots.
Inspired by Nudie Cohn, and his famous rhinestone "Nudie Suits," Rousteing paid tribute to the famous 60's costume designer and all the glitz and glam of Las Vegas. From gold-embroidered mini-dresses to embossed gold and black leather blazers, dresses and bustiers he assured all women that what happens in Vegas stays in Vegas. He sent fresh new denim button-front skirts and leather "joggings" down the runway adding a new dimension to the collection. He also added a new softness to the line with pastel embroidery, wallpaper patterns and floral motifs
Fashion editors were impressed by Rousteing's success in building a collection that was true to the spirit of Balmain, while introducing a more sophisticated, softer side. Job well done Olivier Rousteing!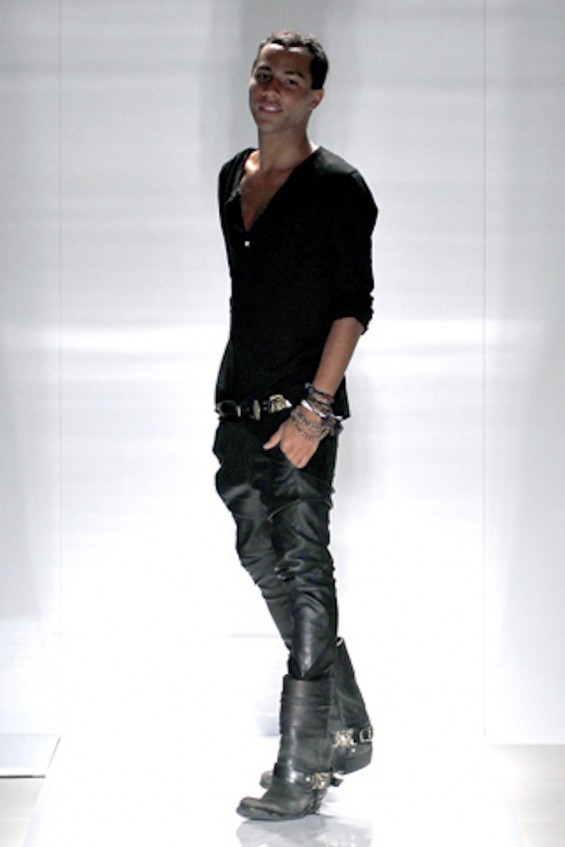 Written by: Stacie Fleming
Check out the entire collection below…
Images courtesy of Style.com