Guillaume Henry sent models down the runway in an array of renaissance motifs, ecclesiastical references, and laser-cut suede at the Carven A/W 2012 show yesterday. Sound eccentric? It was, but in a peculiarly interesting fashion. With such a melange of prints, fabrics, and colors, the scope between adoration and aversion lay in a fairly large margin.
The fun, quirky, and above all youthful collection featured bubble-skirt shifts, fitted bodices, pretty pinafore shorts and hip-accentuating flares that have a tendency to loose the female shape behind the boxy arrangement. As Henry explains,  "It's playful, but not that strict. She has to be elegant and she can't be too girly. It's about contrasts".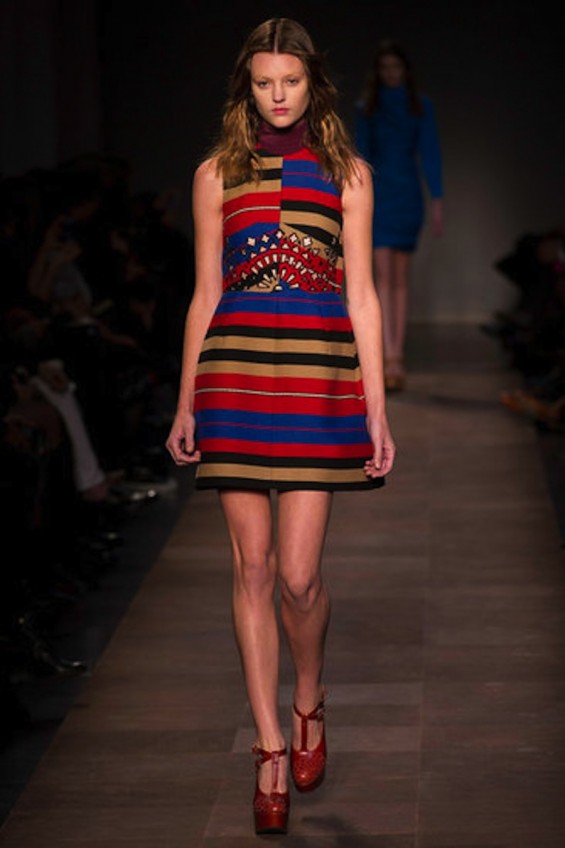 The first four ensembles were tapestry-laiden prints that evoked floral furniture from the 1970s. One dress clung approvingly to the body and the keyhole cut out was a nice addition. However, the following jacket was wide and boxy, a current hot trend in the industry, one not all women will be able to pull off.
Aside from tapestry infused prints, Henry created a stained glass color palette of burgandy, burnt orange, camel, and red; perfect to brighten up your fall wardrobe in a more subtle hue with pretty A-line skirts and girly blouses. This season we've seen that it's all about mixing multiple materials and colors, and between fur collars and detailed cut-out patterns, Carven does just that.
Written by: Kimberly Dreisinger
Images courtesy of: Fashionologie.com