27 stories above the Parisian skyline, Nicolas Ghesquière took the audience on a space-age ride through the corporate world for the Balenciaga A/W 2012 show. With Ghesquière as the chairman of the board, an office fantasy played out in terms of bankers stripes, stiff A-line skirts, and pant suits. Employees donned accentuated waistlines, oversized coats, parachute silk jumpsuits and short, round sweaters. Not exactly office sauve but the idea was there.
In addition to the aforementioned corporate professionals, the show included renegade spies and rock 'n' roll chicks in electric hues, metallic leather, angular prints, shoulder-heavy silhouettes, and eclectic combinations. New silhouettes with challenging proportions are a reverse risk from the normal superskinny silhouette he usually features.
True to Balenciaga form, a distinct 80's retro style was still a prominent component in this collection with black satin sweatshirts with loudly displayed  slogans like "JOIN A WEIRD TRIP" and "OUT OF THE BLUE". Also in this vein are purple zebra prints, tennis top shoes and space age metallic pants.
Kristen Stewart — the fresh new face of Balenciaga fragrance — arrived at the show in skin tight leather pants and a pretty floral tank, scoring the most coveted seat in the house she sat next to Anna Wintour.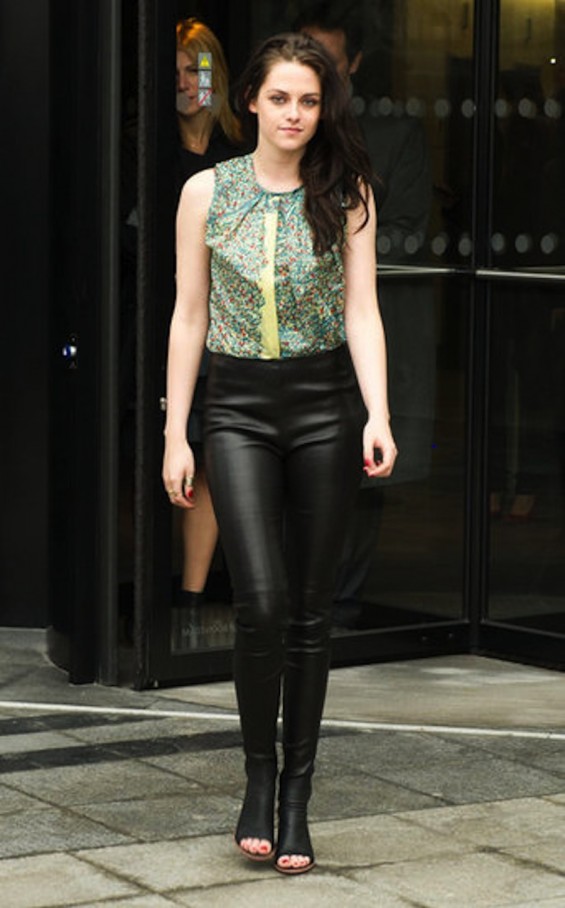 Written by: Kimberly Dreisinger
View the entire collection below…
Images courtesy of: Fashionologie.com