Manish Arora certainly has his hands full, he showcased his eponymous S/S 2012 label this past Thursday, and presented his first collection at Paco Rabanne today. The Indian designer known for his avant-garde, kaleidoscopic pieces, decided to go with a more subdued look this season in hopes of offering a more believable and effortless line. Inspired by the 60's "joie de vivre" or "joy of life" era, Arora sent his futuristic interpretation of this time period down the catwalk. Click here to watch the captivating show.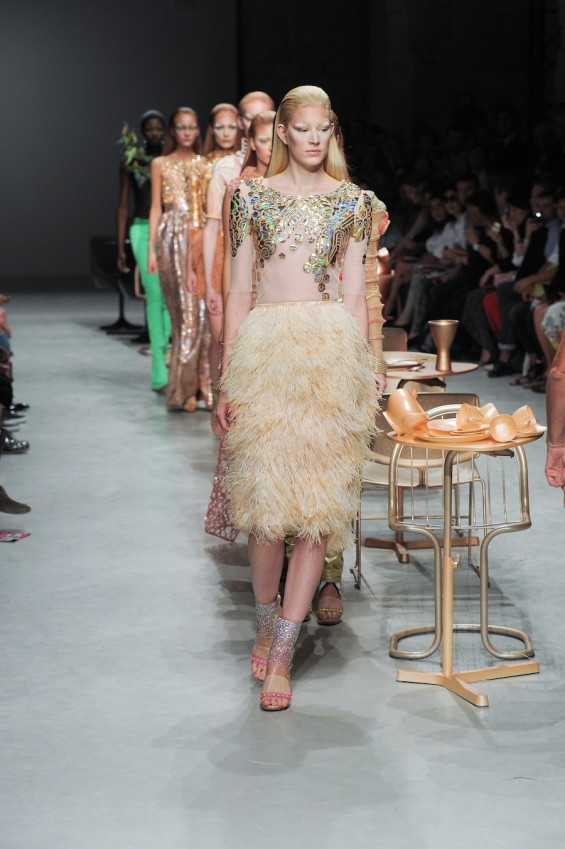 His fundamental inspiration was natural skin tones of the world—blacks, whites and browns formed a universal trinity in the nude. Don't worry, his signature bright, iridescent colors that we all know and love were still in the mix and brilliantly infused into the nude shades. From the instant Rossy de Palma, the sexy Spanish actress, strutted the stage in a shiny metallic bustier dress, we were reassured that Arora had not lost his attraction to everything animated and playful.
Though the colors were certainly toned down, there was barely a surface that did not have sequins, cross-stitchings, embroidery, fringes, feathers or some kind of embellishment. Prints were an essential part of the collection such as the Happy People Print by iconic photographer Robert Altman taken at the Holy Jam Festival in Colorado in the 1970's. Arora also unveiled a new line of jeans produced in collaboration with French premium denim brand Notify that ranged from florescent hues to psychedelic prints.
Written By: Kimberly Dreisinger
Check out the cutting-edge collection below…
Photographs courtesy of Yannis Vlamos