Didit Hediprasetyo took the audience on a journey far away from cold, bustling Paris on Tuesday afternoon; thousands of kilometers away to India in order to discover a collection that emulates the history and culture of his roots. Driven by an air of traditional live music and lightweight materials, these designs were anchored in supporting tradition in a modern world.
For Didit, inspiration was found in presenting spiritual revelations and discoveries of the Western traveler in the daily reality of crowded open-air markets. In a very "Eat, Pray, Love" manner, Didit references the spirit of exotic adventures and self-freedom felt by this Western traveler in India. With cropped tops and boleros from dyed ostrich leather, along with pleated jersey drapes and a corset-like construction, this line mirrors the rejuvenated mind of a free spirit who feels just as at ease in this yogic setting as on the cosmopolitan streets of a big city. The couture collection was perfected with ultra chic turbans adorned by every model, created in collaboration with Philip Treacy.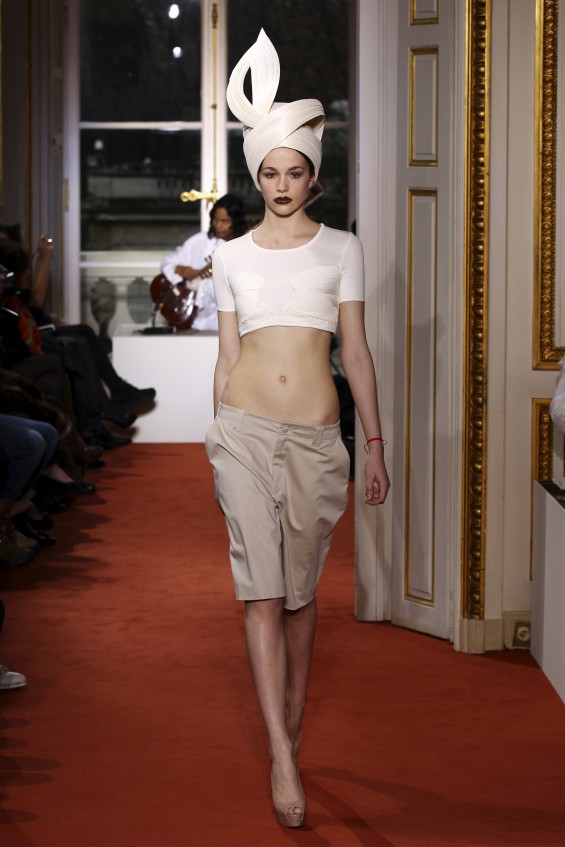 A worldly show, these designs are not meant for everyone; it is for the woman who embraces life and feels comfortable in different settings; It is the woman who is willing to set herself apart from the pack, to integrate other cultures in to her daily wardrobe. Ultimately, it is for the woman who seeks individuality from the mass of romantic pink florals.
View the entire collection below…
Written by: Kimberly Dreisinger