Gracefully she approaches the runway, dressed in slender silhouettes of romantic curves and exotic beauty that exude the presence of an orchid, the most coveted flower on earth. As she sways delicately from side to side with accordion-like, triangular folds and fan patterns in different variations, the dress creates a breezy denouement that seduces the audience with every step she takes.
This is exactly the effect that Lebanese couturier Georges Hobeika was aiming for when he designed his spring/summer 2012 haute couture collection and enlightened the audience at Hotel Le Meurice on Rue de Rivoli Monday evening. Softness and exquisite embroidery were clearly the hallmark of this collection, and flower petals laced with sequins and pearls were the feature element. Orchid waistbands, necklines and hair pieces adorned each model. The dresses were created with delicate lace fabric and sheers like chiffon, georgette, crepe and organza.
A strong collection from start to finish, the presentation began with a t-shirt like baby yellow dress embellished with beads and orchid appliqués and a luxurious skirt with shredded layers to give it a feather-like effect and ended with a wedding gown that emulated the theme of the desirous orchid.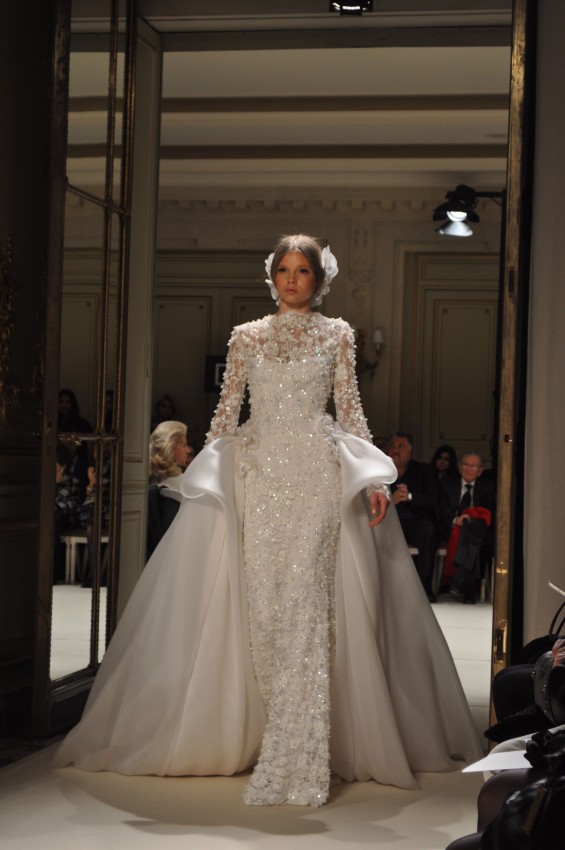 Written By: Kimberly Dreisinger