Stéphane Rolland, the master of movement, presented his fall 2012 haute couture collection in a fitting venue at the Cité de l'Architecture et du Patrimoine. His incredible gift for bringing fabric to life was ever-present in his stunning couture collection. Inspired by the Finnish architect and furniture designer Alvar Aalto, Rolland's collection was filled with continuous movement, beautifully orchestrated lines and circular angles that created an architectural modernity. Modern art influences were readily seen throughout the line in the form of embellishments, such as silicone furs, rock crystal ornaments and suede-sheathed metallic objects. Click here to watch the entire runway show.
The fluidity of his chiffon dresses inspired a breathtakingly ethereal setting. Masterful draping and sculpted fabrics added dimension to each beautiful masterpiece. Caped jumpsuits and tuxedos added an effervescent dimension to the line mixing restraint with liberation. The juxtaposition between virtue and sin was done in a subtle fashion, with angels floating down the runway amongst their dark femme fatale counterparts. Fishtail skirts quivered with whimsical frayed organza appliqué while signature 'cocoon' silhouettes exuded femininity in the form of a narrow bodice. Drawing on the furniture references, colors resembled varying shades of rich wooden textures; cedar blonde, Havana beige, pearly white, and deep ruby created a harmonious glow.
Known for dramatic finales that usually include an over-the-top wedding dress, like last season's jaw-dropping 110-pound stunning red gown, Rolland did not disappoint this season. He sent the angelic Chinese actress Fan Bing Bing down the runway in a majestic white gown dripping in leather fringe, with a train so long four attendants waited at the end of the runway to artfully arrange it for the exquisite bride.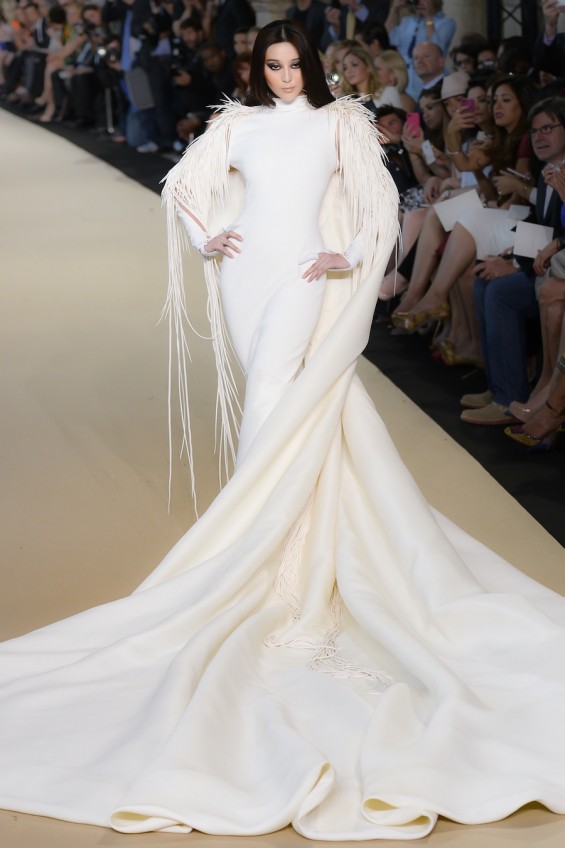 Written by: Stacie Fleming
View the entire collection below…
Images courtesy of Stephane Rolland