From dusk to dawn, Giorgio Armani served up day-to-night couture with his recent fall 2012 couture collection from the Palais Chaillot overlooking the Eiffel Tower. Everything from the setting to the runway to the models and even the audience screamed pure elegance and sophistication. In the Italian designers usual menswear inspired seperates, models strolled out two-by-two in a color pallet that included an array of blues; pale sky to royal blue and navy; pink periwinkle and lilac;  as well as black, white and gray. The collision of colors to resemble the sky at various moments throughout the day was truly magical.
The daytime peices introduced soft lines, wool jackets, velvet trouser and the pastel hues of the sunrise. Black berets were an added accessory that made each outfit slightly more casual. As nighttime fell over the audience and the collection, the berets transformed into sultry veils and feather headpieces. Midnight blue and crystals transformed the setting as the audience broke into applause during several moments of the show when they realized the intricate detailing and embroidery that had been crafted.
Among each stunning piece we saw, the one that stuck out the most was a strapless, metallic pink evening gown with a black stole. We would love to see this on the red carpet sometime soon.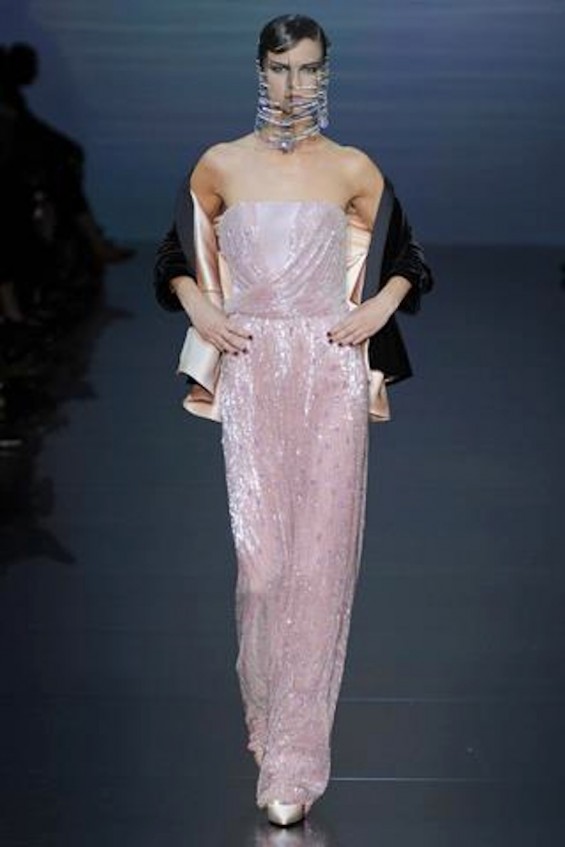 Armani saved the drama for last, with an assortment of black evening gowns in stone embroidered velvet or silks like starlight twinkling across the night sky.
Written by: Kimberly Dreisinger
View the entire collection below…
Photos courtesy of vogue.it