Steffie Christiaens realized her signature design process in a collection dominated by juxtaposition. Inspired by modern Sufi dancer Ziya Azaza, the Dutch designer pulled together technological and spiritual worlds, natural and cultural spheres to create a dualistic universe at the Hôtel Shagri La.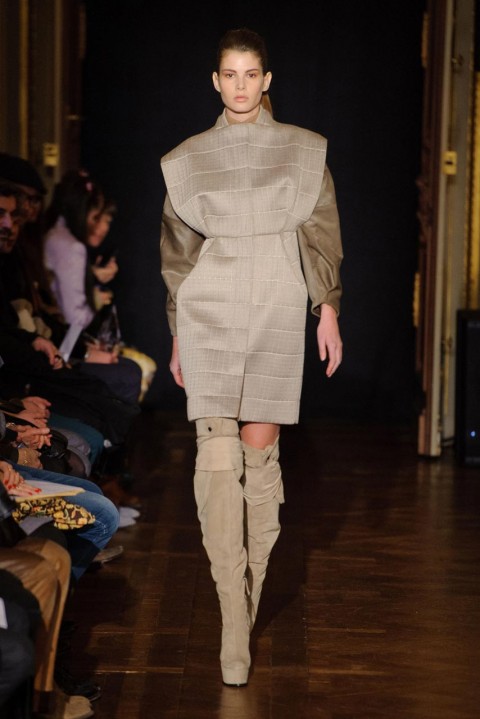 Christiaens played weighty fabrics – gold silk satins, charcoal wools and supple leather – against industrial belts, mixed media metal/pyrite jewellery, studs and bolts. Wooden heels added industrial architecture, but gave terrified models an unstable gait, subtracting from the grace that would otherwise have radiated from the designer's vision.
Textural interest injected the neutral colour palette with a sense of luxury. Quilting appeared in jackets and bags in hard leather; an embroidery motif came through in black sheer fabrics, repeated in stiff-backed blouse with rounded detail. Great strength came from the back view, with interesting cut-aways, sheer panels, rounded silhouettes and a surprise backpack, to add both quirk and utility to the collection.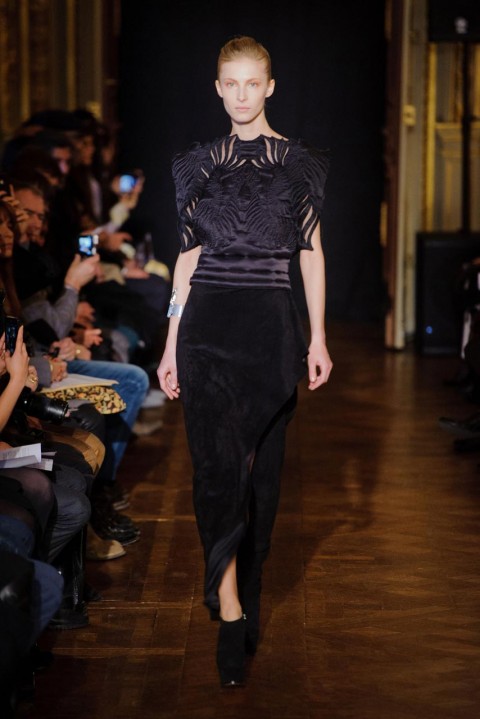 Written by: Symonne Torpy
View the entire collection below…