Good morning from Milan!
After a long day of shows yesterday, we were excited to head to a nice, relaxing dinner at the new Armani hotel before traipsing over to the DSquared cocktail party. Here is what we wore (and girls, let us tell you — walking around Milan in high heels on cobblestone streets has NOT been easy on our poor feet or ankles!)
Look 1:
Marks & Spencer multicolored playsuit
Top Shop dark black tights
Zara women's long waist blazer
H&M orange wedge shoes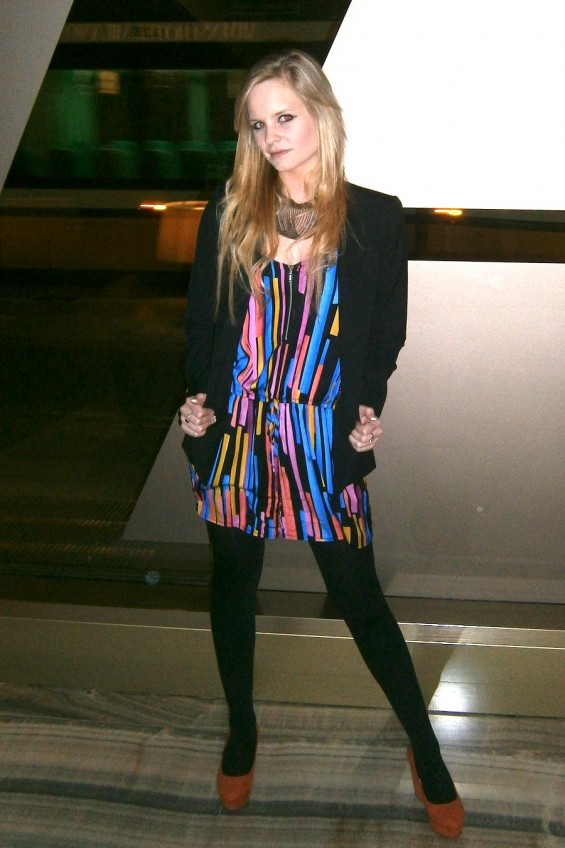 BCBG black tulle skirt
Sheer pink Forever 21 top
Maroon fur Antik Batik coat
Nine West Vintage America collection by Karen Elson peeptoe wedges
The Dsquared2 party was filled with pint size fun! (The famous brothers Dean and Dan were so adorable and even asked the Blonde Cheries to take a picture with them — Blondes in the middle!) The night emulated a high-end circus, including a luxurious ring master in a little bejeweled red number. With magic and illusion in the air, we had a wonderful evening mingling with the guests, entertainers, and the designers.

The Blonde Cheries