The fourth annual Saut Hermès equestrian event took place recently at the magnificent Grand Palais – a favourite Parisian landmark of Karl Lagerfeld. The Grand Palais – which has hosted the famous Biennale des Antiquaires and Chanel runways – was steeped in sophistication as stylish spectators watched the most prestigious riders from all over the world compete in the show-jumping competition. Powerful horses and exquisite riders soared over massive jumps with complete elegance and ease.
Hermès is most famous for their luxury leather handbags, but the company had humble beginnings as a small harness workshop on the Grands Boulevards, catering to European nobility. In 1880, they began making saddles and moved to the Faubourg Saint Honoré where the headquarters can be found to this day. Hermès equestrian roots are honoured still – just look to the hardware details of their famous bags for hints.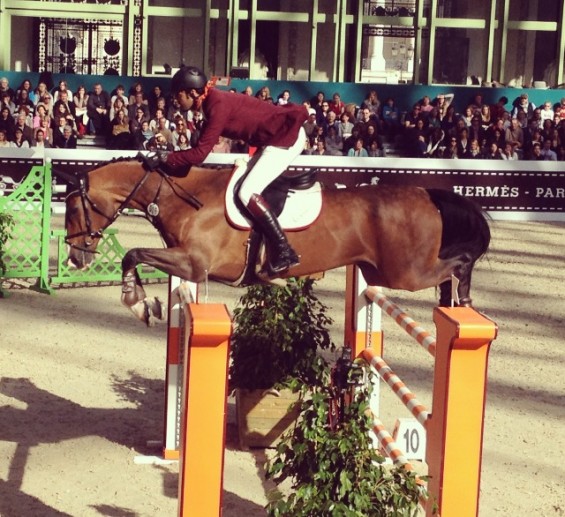 Along with the all mighty sporting event, this year the Saut Hermès welcomed the Cadre Noir de Saumur and the Elastonautes a remarkable, artistic riding team. With such precision this team, along with acrobatics, produced an amazing spectacle under the great glass nave of the Grand Palais. Beautiful galleries were set up around the arena featuring luxurious leather saddlery, photography, books and gifts. Horses' hooves echoed through the grand monument as the audience looked on in awe.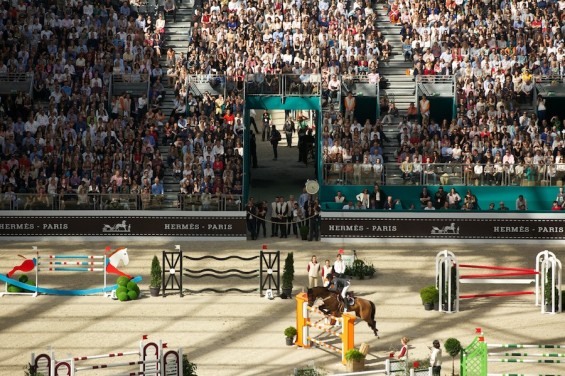 Written by: Stacie Fleming
Last image courtesy of Alfredo Piola