It takes five Vogue cigarettes and countless run-ins with my umbrella to reach my destination. Like so many fashion press events in Paris, I reach a locked door with a buzzer and I await my anonymous entry. It's the first layer to a fashion story – a blank book jacket that piques the imagination. For the new H&M luxury brand & Other Stories, opening the door is about discovering not only a new collection, but behind it, a refreshing philosophy towards design.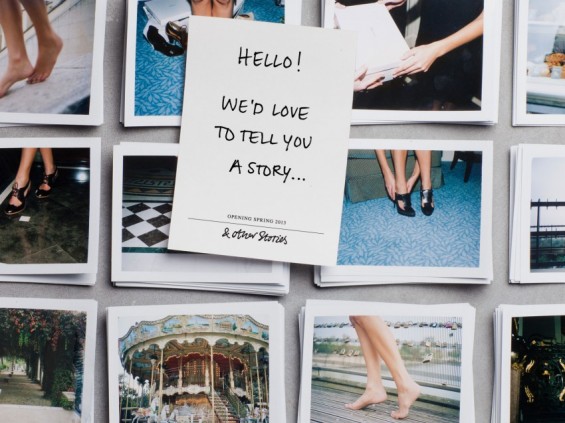 Is it possible to find a universal style language for the contemporary woman? A diverse mix of collaborative designers have taken the definition of "feminine" and expressed it through a challenging, yet wearable vernacular. Musings on art, architecture, vintage photographs and even Patti Smith, animate a collection that's soon to hit Paris and the broader European market.
Separates are placed side-by-side on cohesive racks, each with a distinct narrative. First, we meet power and strength. This part of the collection carries the sensuality of leather focal points, grey-washed jeans, a convertible zipper vest/jacket and a simple white T-shirt. Peeling away, we are met with strong lingerie – black, netted, structured, with the spirit of a dominatrix waiting to be unleashed by its wearer.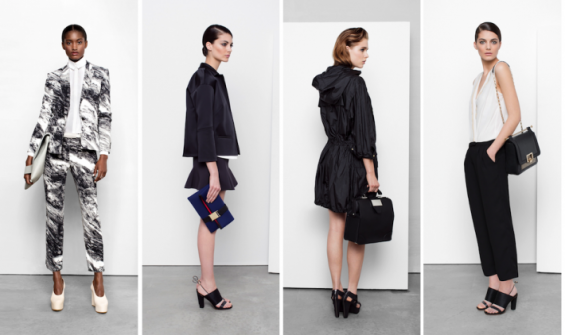 I discuss the lingerie's cheeky charm with the creative team. It's a woman's aesthetic secret as she wears her story from the inside out. We agree that there is as much power in a hidden foundation piece as there is in a powerful black heel. Building back up with accessories, the jewelry is heavy to hold. This injects tactile pleasure into their cuffs, industrial rings and chunky chains.
A lighter, brighter, more colorful approach is embraced as the collection evolves into visions of a "frillier femme." Fabric's transition into creams, whites and blues. Silks appear with fluid drape, floral prints are matched with girly bow details. There are lots of wearable basics: a beige scarf with cutout detailing, a navy skirt and blazer, collared blouses. Jewelry takes on an edible candy-like quality in vibrant hues. There's still a great deal of structure in a muted gold jacket and a pair of heavy, tailored peach culottes.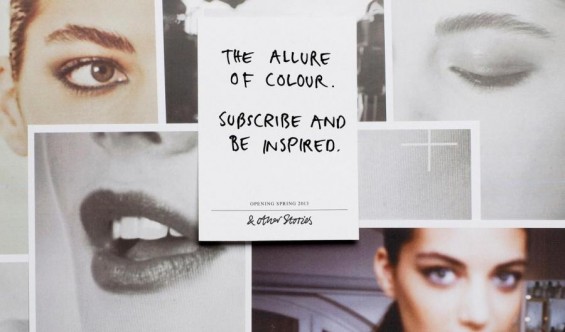 Menswear references abound, obvious in the stronger pieces, and a subtle way to bring the collection together as we get frothier. Shoes stomp through conventionally masculine detailing – tasseled loafers are elevated into a wedge heel and appear in velvet, straight out of some luxe boudoir. They sit á côté du flat, fringed slippers in beige – the perfect accompaniment to a tailored cream shirt and cropped pant. There's a "slashed" black bag that's large enough to carry one's life around in on the Metro. It's an instantly covetable piece.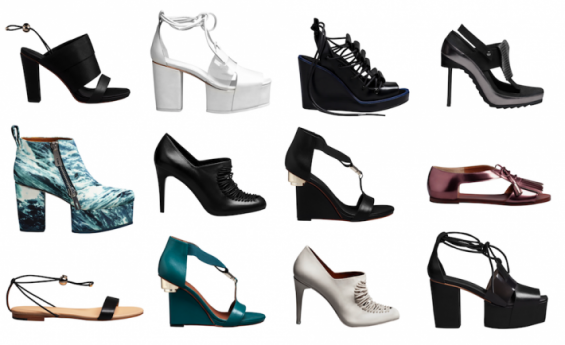 As someone who enjoys playing different characters, I delight in environments within which androgyny and the hyper feminine may meet, spar and have love children. I can see each clothing-rack collide into a brand new tale.
Beginning life as a beauty brand, & Other Stories has layered its identity over an understanding of what a woman wishes to represent from the moment she meets the mirror in the morning. It's personal. And it doesn't feel like throw away fashion. This is where I find & Other Stories hits its mark, dwelling beyond the glut of ready-to-wear churn-outs currently on the market.
The layers have been peeled away, yet the stories have just begun. A much more visible (shop) door will open for the collection in Spring, at 277, rue Saint Honoré. 
Written by: Symonne Torpy
Images courtesy of H&M