Light- one simple concept, was the sole inspiration for the ever-inventive Issey Miyake S/S 2014 show last week in Paris. From starlight, moonlight to sunlight the show started and finished like the rising and setting of the sun.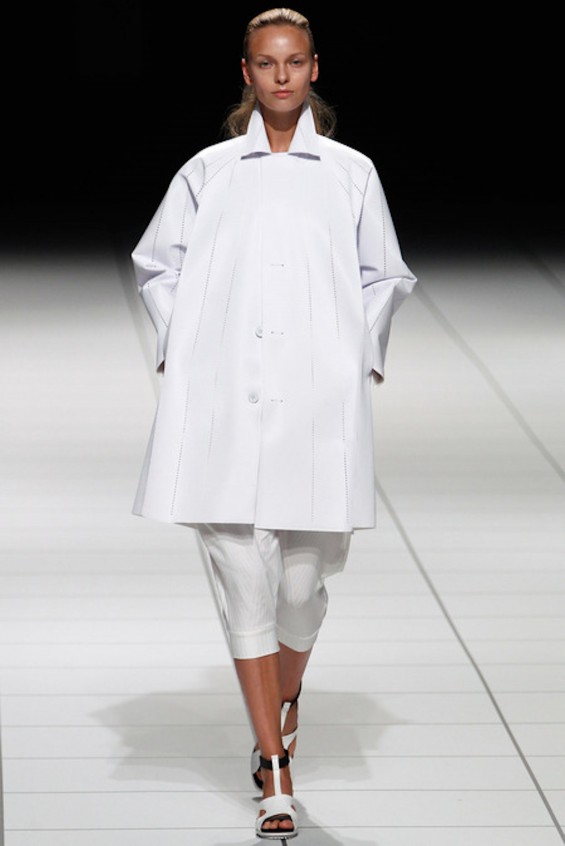 Lead creative director Yoshiyuki Miyamae was inspired by the sky, its colours and by the idea of lightness, which are essential elements for the designer. Iridescent materials were perforated and wrapped around the body like a cocoon. The silhouettes were clean, guided by hybrid textiles combining natural and technical fibers.
The first designs hit the runway in an array of stunning neutrals, black and white, glittering like stars in the the night.  On theme, just like the light of day, color slowly trickled onto the runway like fiery rays of sunlight. It was an effect so subtle that it scarcely distracted from the strong silhouettes. The overall look sporty street-like style of the collection was flawlessly executed through the construction of each individual piece.
Leather coats folded themselves into panels reflecting the light, but also letting it in through its lines of tiny holes. Stiff, translucent net coats in orange and blue didn't just work like a filter for the light on the body, but also provided a viable idea of how to do summer coats. And with the final segment of sliced up, asymmetrically layered dresses and skirts and sculptural tops, Miyamae gave the Asian fashion crazed season its authoritative fix of masterful Japanese tailoring.
Written By Stephanie Harries
Photos courtesy of style.com