Stefano Pilati bid adieu to Yves Saint Laurent with a dangerous walk on the dark side for the Fall 2012 runway. Hard-edge dominatrix women in leather, boxy jackets, gloves, and shimmering mesh felt darkly glam in luminous metallics such as black, green, and gold. Pilati's hypersexual vision of fashion was personified by the calla lily, Roman symbol of lust, as the floral accent for the collection. A tough, masculine collection with distinct '80s shapes (broad shoulders, accentuated angles, slicked back hair) was nontheless constructed for the woman; cinched belts accentuating her figure, plush fur accents, and sequins streamlined in to an overall tough, chic, and confident collection.
If you've got to go; best go with a bang! Stefano Pilati was abdicated with a standing ovation.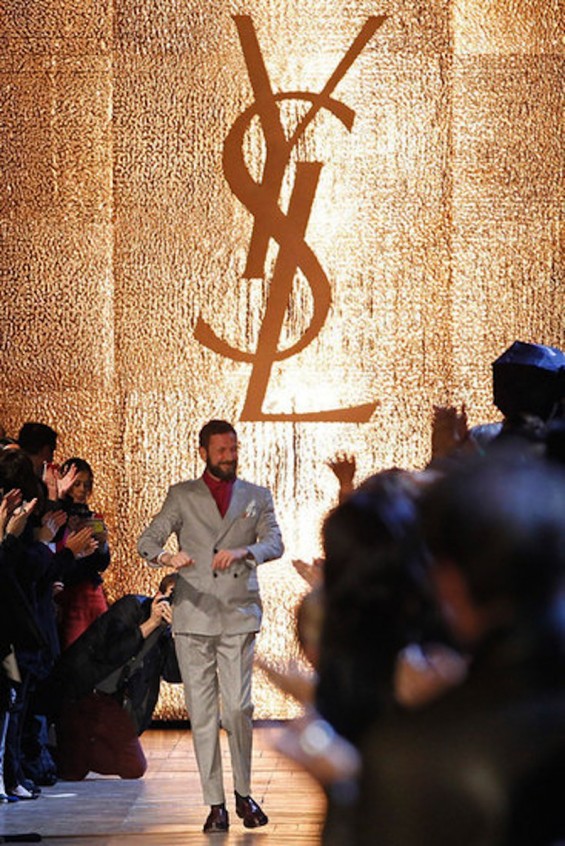 Wondering who could replace Pilati? YSL revealed that Hedi Slimane, menswear designer at Dior Homme, will have full creative control of the brand image and collections at YSL . We are excited to see his new creations (and his first womenswear range!) in the June 2012 pre-collection.
Written by: Kimberly Dreisinger
View the entire collection below..
Images courtesy of: fashionologie.com