Vivienne Westwood's Spring/Summer 2012 collection hit Paris with a vengeance. The British designer, famous for transfusing anarchy into high fashion, found inspiration in everything from saving the environment to Orientalism to her own constituent corsetry.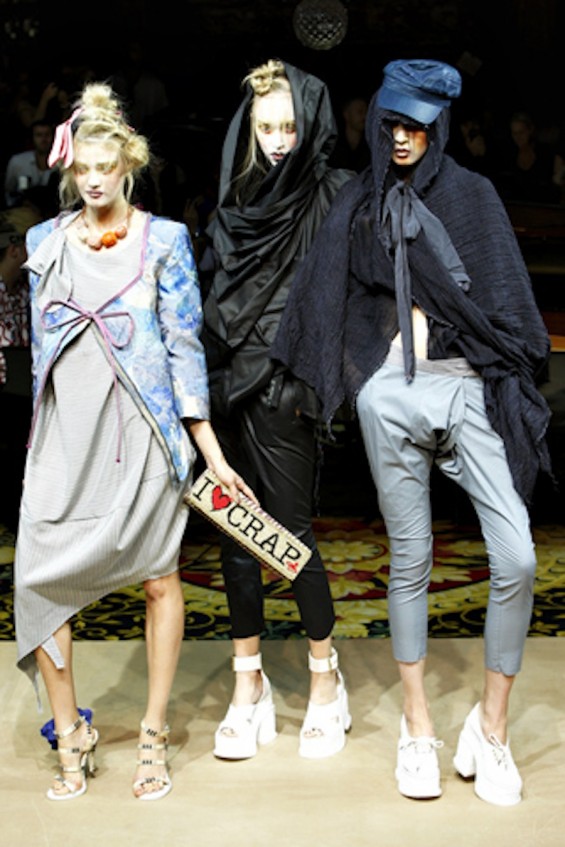 The Opera Ballroom at the grandeur Hotel Intercontinental set the stage for a wild yet elegant show. A circular runway, neon glow sticks attached to the ceiling and 16-year old pianist, Kyle Nash Baker, performing compositions based on Westwood's World Family Tree created the ultimate unconventional atmosphere that is seldom found during Paris Fashion Week yet widely recognized at the hands of Westwood's followers. The eccentric execution of complete chaos created a memorable show, as is the norm from the Godmother of Punk.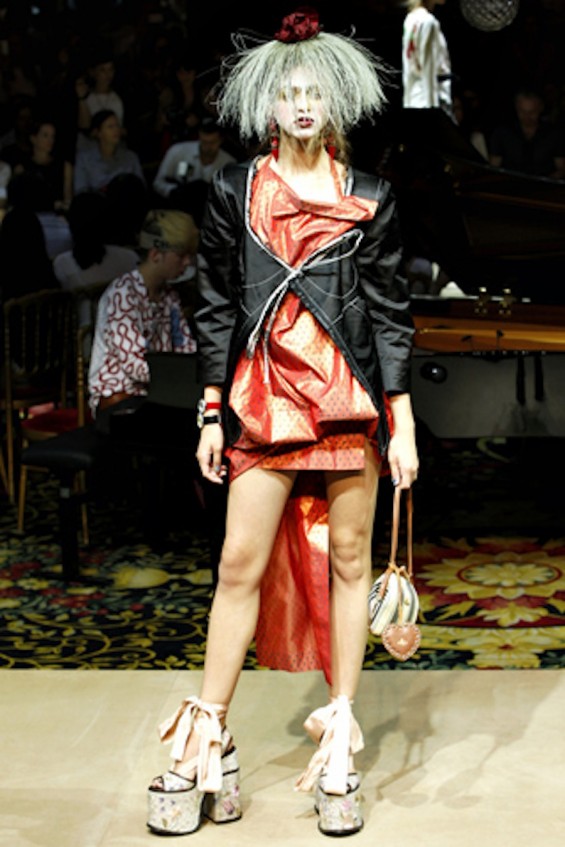 A multitude of fabrics graced the models, ranging from satins, lamés, brocades, prints, stripes, lace, argyle, nylon and tulle. Add to that blue lipstick, face painting, and signature towering platforms—the press excitedly clicked away and scrambled for a better view as models paused in elaborate poses or mini pantomimes. Extreme layers, ruched satin eveningwear and tablecloth lace wedding gowns, mesh bodices, knotted belts, brocade jackets and bedspread dresses all made an appearance, creating a proud refinement in the midst of mayhem.
Inspired particularly by China, Westwood procured the help of Zhijia Wang, deputy director of UNEP's Division of Regional Cooperation, to stencil the Chinese characters featured in this collection. "Mr. Wang wrote my name and the words 'green economy' in his calligraphy," she said. "And I incorporated this in a print taken from Chinese flower painting. I hope their traditional wisdom and experience from a culture going back to Confucius may help us to save the planet."
Westwood never ceases to amaze us with her creativity and imagination! The only way to truly experience this magnificent show is to watch it yourself! Click here to view the complete runway show.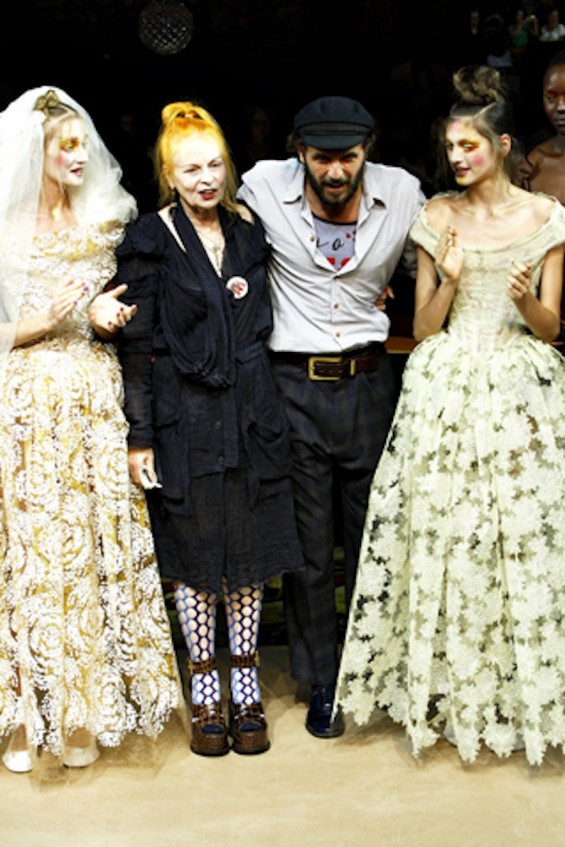 Written by: Kimberly Dreisinger
View the dreamy collection below…
Images courtesy of Style.com