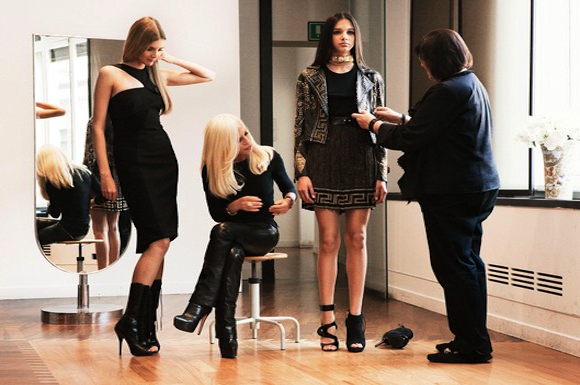 Swedish retail powerhouse H&M has kept the fashion-forward masses on their feet each fall with impressive collaborations by guest designers. This year, H&M will be collaborating with none other than Versace.
Having previously integrated ready-to-wear lines with Roberto Cavalli, Stella McCartney, Jimmy Choo, and the most recent frenzy that left clothes flying and girls quarrelsome, Lanvin by Alber Elbaz, we have reason the believe that this new collection at H&M is going to be even bigger and better.
A sudden change of heart for the prominent Versace label, they are now looking to produce a collection that will have lines for men and women, as well as home accessories – a first for H&M. "I am thrilled to be collaborating with H&M and to have the opportunity of reaching its wide audience," Donatella Versace said. "The collection will be quintessential Versace, perfect for H&M and Versace fans everywhere."
This statement is a complete retraction from a claim made just three years ago, that a high-street diffusion line was "not the Versace way". "I respect everyone who does it. But the reason I didn't do it is because I work very hard to put the Versace line in the luxury section. I think to put the Versace line in H&M would confuse the brand," Donatella Versace told New York Magazine. However, rather than 'diffusion', this line is being sold as an 'Iconic Collection' in H&M stores – perhaps this higher status coupled with the huge success of Lanvin last fall is what convinced this lucrative brand to change their mind.
Whatever the reason, audiences around the world are having a mixed reaction. Eager H&M shoppers and other fashion – savvy consumers are beyond excited to be able to own brand name apparel and express themselves at affordable prices. Others, however, are much less enthusiastic by Versace's decision, claiming that now the mass public will be able to afford a look that the upper class pays thousands of euros more for the Versace label at regular retail price. What now separates the wealthy elitist from the fashionable middle class?
Despite this controversy, we will eagerly await the new fall collection, which will debut November 17th in Europe and will be available in over 300 stores worldwide by the end of the fall. Vogue UK has told us to "Expect studded leather and colourful prints for the girls; sharp tailoring and plenty of bling for the boys". Here are a few pictures of the Versace for H&M line to keep you on your toes for the next several months.
Written By: Kimberly Dreisinger
(Pictures courtesy of vogue.co.uk)