The Chanel Spring/Summer 2012 runway show—a wondrous under-the-sea cosmos, complete with sparkling white sand, glittery glass bubbles, a stingray, sea horses, submerged seaweed and coral branches. Karl Lagerfeld transformed the Grand Palais into a magical underwater extravaganza sending an ocean of prettiness down the runway.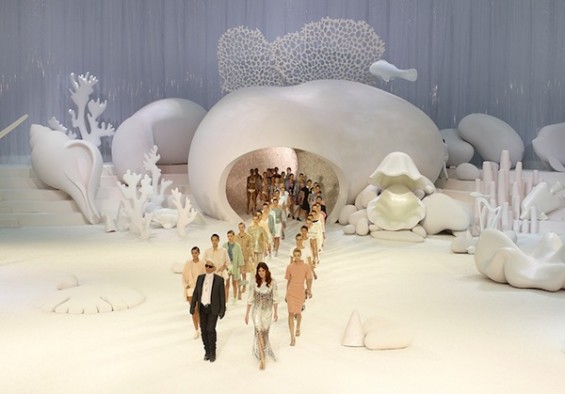 Snails and shells were scattered throughout the venue, and in true mermaid tranquility Florence Welch immerged halfway through the show in a white clandestine clam singing, "What the Water Gave me". The seating flowed like rolling waves, upon which guests such as Uma Thurman, Ana Wintour, Alexa Chung, Clémence Poésy, Anna dello Russo and Poppy Delevingne adorned stylishly.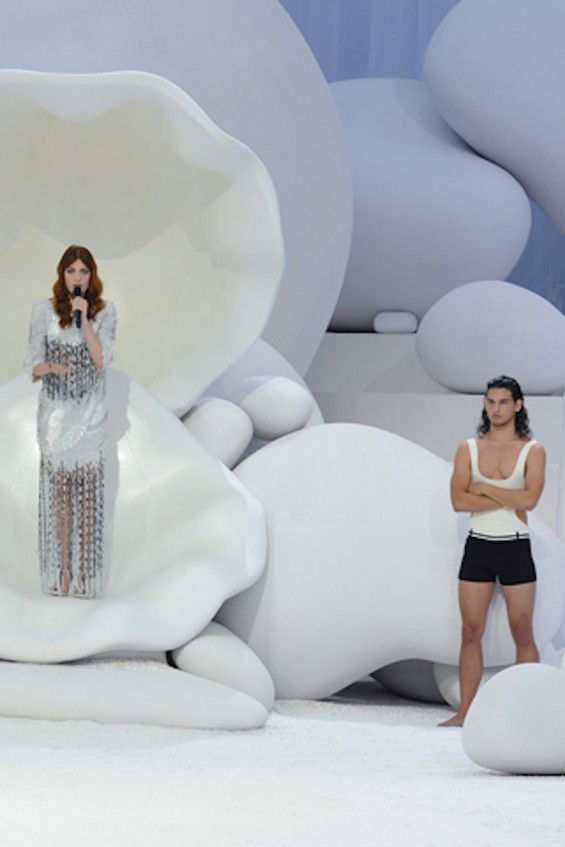 A vision of an underwater goddess, Lagerfeld celebrated luminous light, movement and the reflection of the sea. Radiant, opalescent color like whites sparkled brilliantly, shimmering pinks, aqua sequins and pale greens glittered like the reflection of sun in the water. As the models glided down the runway, the opalescent light captured the sheer elegance of each silhouette.
Clothes rippled and swept along the natural movements of the body mirroring the movement of the sea. Underwater forms inspired unusual shapes and textures. "The fish are the only ones who can see anything clearly anymore!" said Lagerfeld. Silk petals, sheer tops, lightweight fabrics, and snail-like clutches added to the allusion.
Lagerfeld's signature tweeds, drop waists, short cutout jackets, and skirt suits graced the runway. Additionally, he presented a sportswear line that included bikinis, cutout swimsuits, and chiffon dresses and wrap-ups perfect for the beach.
No underwater experience is complete without the accent of beautiful iridescent pearls, an icon of the Chanel house. The glimmering jewels accented hemlines, acted as buttons, accessorized the model's hair and decorated her ear, face, and spine.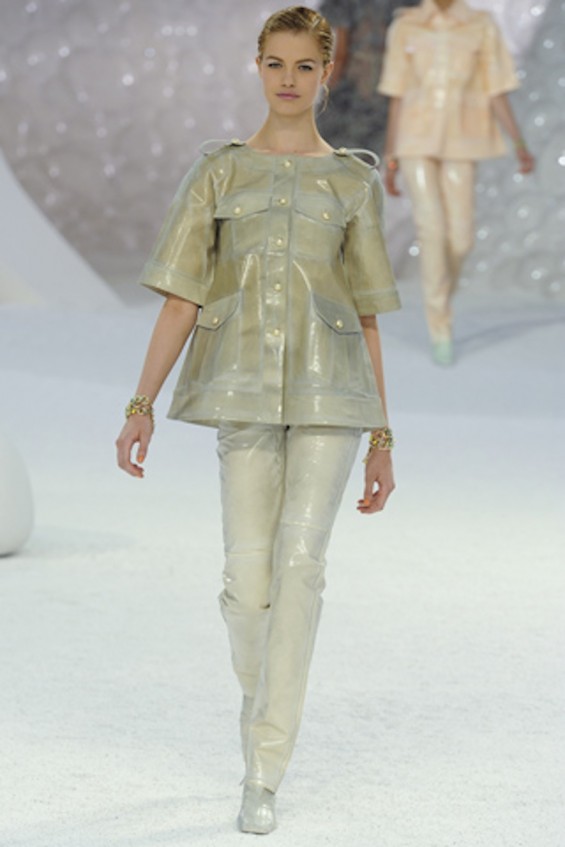 What a breathtaking collection! Complete with an enchanting underwater world. As always, Lagerfeld out did himself!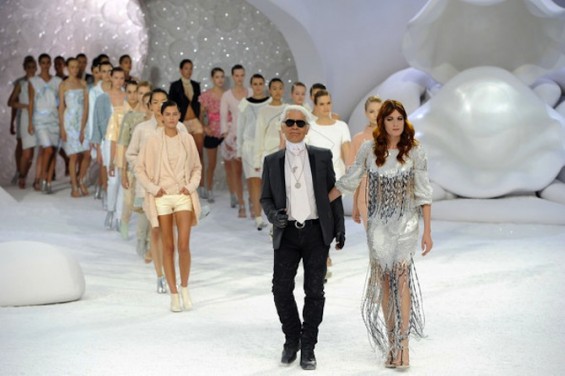 Written by: Kimberly Dreisinger
View the entire collection below…
Images courtesy of Chanel and Style.com