Prada is popping up in Paris on Tuesday, January 24, during Paris Haute Couture Week. The Italian luxury label is launching an over-the-top, decadent pop-up museum that lasts for a mere 24-hours. Designed by Italian artist and satirist, Francesco Vezzoli, the venue will include neo-classic sculptures of his favorite celebrities and films such as Sharon Stone and Lady Gaga.
Vezzoli's cutting-edge art revolves around the culture of celebrity and the promise of projects that never occur. He claims this playful pop-up museum is "an exploration of our obsession with self-promotion, fame, and public relations." Synthesizing the fashion and art world in such a spirited manner will bring fun back in to the picture again. By thinking of this pop-up as "a parody of a retrospect" (Vezzoli) art and fashion become joyful and free-spirited.
The exhibition begins with an invitation-only dinner, followed by an evening of dancing, once the space is transformed into an exclusive nightclub for the fashion elite. Join the party at www.24hoursmuseum.com. If you are interested in attending, the event will be open to the public the next day on Wednesday, January 25. Held in the historic Le Palais d'Iéna, it is sure to captivate the fashion world. Mark it on your calendar ladies; it will be gone in the blink of an eye!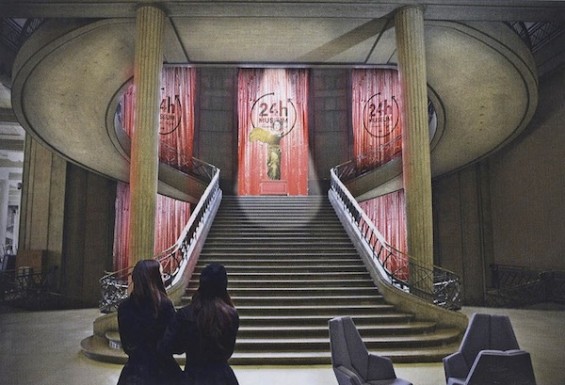 Bisou, Bisou
Paris Girl Couture