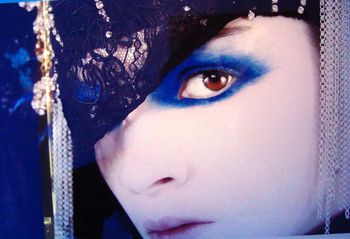 Karl Lagerfeld, iconic fashion designer and celebrated photographer is showcasing his visionary photographs at the Maison Europeenne de la Photographie until October 31, 2010
It all began over twenty years ago, disappointed with the press photos of his collection, Karl Lagerfeld determined it was time  to go behind the camera, look through the lens and make his own beautiful images.
The exhibit is a reflective and pensive illustration of Karl Lagerfeld's fascination of images, extensive advertisements and his love of travel. His intimate and personal images translate his vision of reality.
The exhibition is divided into two sections. The first section displays is professional photography, such as fashion, portraits, landscapes and architecture.  The second section examines his experimental photographic printing work, which is quite innovative. His commitment to imagery is illuminated throughout the entire exhibit.
The correlation between his artistic work as a fashion designer and his photography is astounding. For example, the rich density of his black and white prints is reminiscent of fabric falling in luminous waves. I was inspired and transported into a world of provocative imagery.
For all of you photography lovers, Karl Lagerfeld's bookstore Librairie 7L, is located in the 7th Arrondissement is dedicated to photography and coffee table books. There is a vast range of old editions as well as limited ones, not to mention a fabulous selection of fashion books.  The book store is located at:
7 rue de Lille
7th Arrondissement, Paris
75007
Tel: 33 1 42 92 03 58