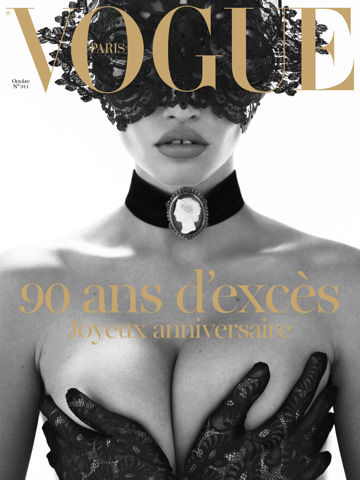 Happy 90th Birthday French Vogue! I raise my champagne glass in a toast to you!  Joyeux anniversaire, you are as fabulous as ever…and haven't aged a bit!
The sexy and provocative anniversaire edition boasts over 620 pages filled with all kinds of sought after goodies for us fashion lovers: Chanel sketches from Lagerfeld, custom advertisements, the magazines history, archival images and erotically masked models by Mert Alas and Marcus Piggot. Donning a lace mask by Philip Treacy, mademoiselle Lara Stone seductively graces the cover.
At age 16, I purchased my first copy of French Vogue—a purchase that turned into a lifelong hobby of collecting periodicals from around the world. To me, fashion magazines are a democratic form of beauty, a work of art not hidden in a museum but available to everyone to admire. Today, my bedroom, filled with framed covers, pays homage to the art form of these magazines. The 90th anniversaire edition will most certainly be added to my collection.
Carine Roitfeld, the chief editor of French Vogue, said of the magazine at 90: "In 90 years, we haven't changed the mood of the magazine. It's still very audacious. It's still about beauty. It's still about excess. It's still very avant-garde." That would explain the title on the cover 90 ans d'exces (90 years of excesses).
What good is a birthday without an extravagant and decadent birthday party? French Vogue celebrated in style at Le Bal Masque Vogue. Apparently, my invitation was lost in the mail.
It was a star studded party inspired by Stanley Kubrick's film, Eyes Wide Shut. This was a truly decadent affair. Not only was this party the highlight of Paris Fashion Week, it quite possibly was the most elaborate fashion party of the decade. The costumes were innovative, imaginative and stunningly chic! Check out the fabulous pictures from the party.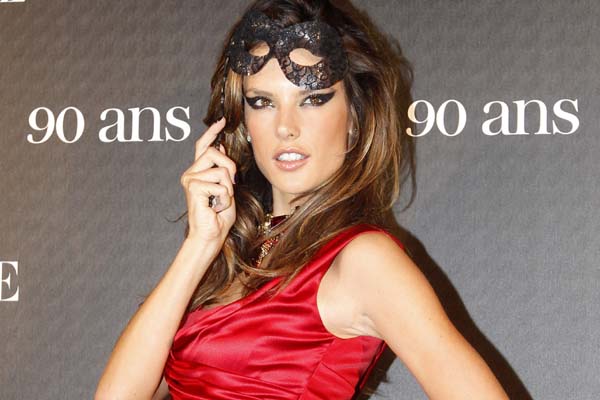 This party brought out fashion's elite crowd. Alexander Wang, Zac Posen, Jean-Paul Gualtier, Diane von Furstenberg, Carine Roitfeld, Joseph Altuzarra, Marc Jacobs and Christian Louboutin to name a few of the attendees.
Don't forget the gorgeous super models  Kate, Natalia, Gisele and Tyra were all there strutting their stuff. And socialites and jetsetters such as Vladmir Roitfeld-Restoin flocked to Paris to attend the grandeur soiree.