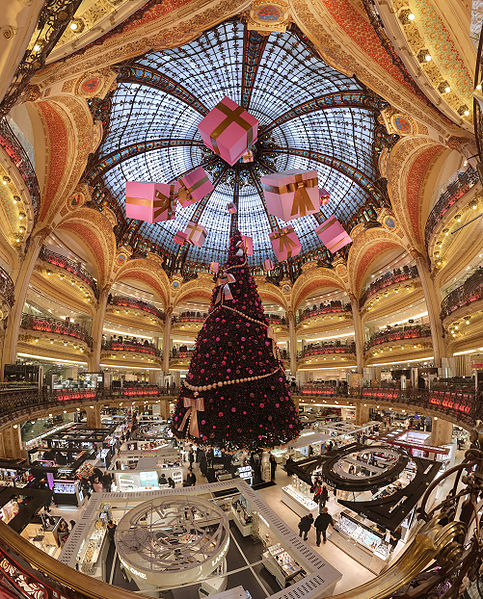 Whether you are looking for a prestigious brand of cosmetics, something in the culinary arts, that perfect pair of jeans or you just want to enjoy the holiday festivity and splendid window displays, Galeries Lafayette is a must see! Happy shopping…
Founded in 1893 by Theophile Bader and his cousin Alphonse Kahn, Galeries Lafayette positioned itself as a trend-setter in the Parisian fashion world from the beginning. Bader commissioned Georges Chedanne to design the layout of the Haussmann location. A glass dome and Art Noveau staircases were built in 1912.
Located in the heart of the Opera district, Galeries Lafayette is an architectural landmark that is one of the most visited sites in Paris. The splendid Neo-Byzantine cupola (glass dome) is a breathtaking historical monument that people from all over the world come to see. The terrace of the building offers a splendid panoramic view of the city.
This lavish department store is the fashion Mecca of Paris. It is home to multitudes of famous luxury brands, but also serves as a launching pad for young and upcoming cutting-edge designers. Offering close to 80,000 different labels, it is hard not to find something you will love in this grandeur palace of fashion.
Under its Neo-Byzantine cupola resides the world's largest perfumery, filled with the most sumptuous fragrances from around the world. In the women's fashion department, free 30-minute fashion shows are held every Friday at 3 p.m. A reservation is required so call (01.42.82.36.40) or e-mail for reservations. Additionally, there are services galore: travel agency, beauty parlour, hair salon, restaurants, bridal & birth registries, florist and gift ideas.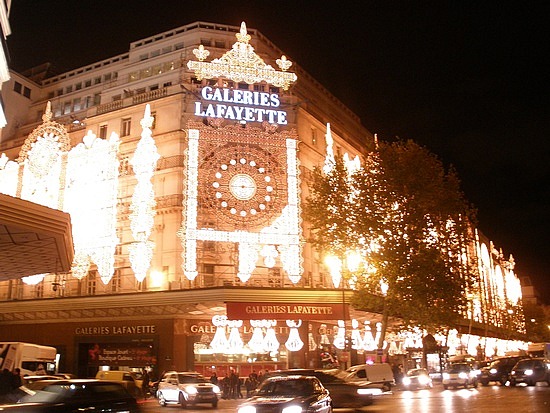 Location:
Address: 40, Blvd. Haussmann, 9th Arrondissement
Metro: Chaussée d'Antin, Opéra, or Trinité
RER: Auber (Line A) or Haussmann St-Lazare (Line E)
Bus: Lines 20, 21, 22, 24, 26, 27, 29, 32, 43, 53, 66, 68, 91, 94, or 95
Telephone: + 33 (0)142 823 456
Visit the website